Dave Danzer (Supermodifieds), Mike Bond (SBS) and Jeffrey Battle (350 Supers) were victorious on the 67th edition of Bud Classic Sunday.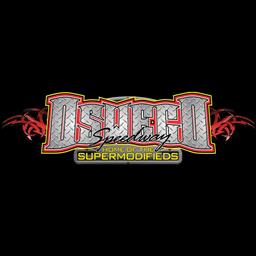 9/1/2023 - Oswego Speedway
Oswego, NY
67th CLASSIC WEEK - STOCK CAR SPECTACULAR AND CLASSIC TIME TRIALS
INFO -
Midstate Basement Authorities DLM Super Stock Dave London Memorial XV (50)
Rusty Diamond Cores New York State Compact Championship (20)
Novelis Supermodified and Pathfinder Bank SBS Classic Time Trials
PRICING -
GA: $20 - Kids 6 to 16 GA: $10 - Kids 5 and Under GA: FREE with paid adult - Pits: $40 - VIP: $100
TIMES -
Office Ticket Booth Opens: 9:00am - Back Pit Booth Opens: 9:00am - Pits Open: 9:00am (Supermodifieds, SBS, 350 Supers ONLY) - Driver's Meeting: 10:30am - Warmups: 11:00am to 1:30pm (350's, SBS, Supers - 2 rounds each division) - CLASSIC TIME TRIALS: 2:00pm (SBS and Supermodifieds)
*ALL 350 and SBS haulers must be removed immediately after Supermodified time trials.
*Supermodified haulers must be removed 30 minutes after the last Supermodified time trial.
*Super Stocks and Compacts Drivers' Meeting will be held at 2:30pm behind the rear grandstands.
Super Stocks and Compacts Enter Pits: 3:30pm - Warmups Begin: 5:00pm - RACING: 6:30pm
Novelis Supermodifieds

32 entries

J&S Paving 350 Supermodifieds

10 entries

Pathfinder Bank SBS

24 entries

DLM Super Stocks

46 entries

National Compact Tour

35 entries
Full Event Information on MyRacePass
Novelis Supermodifieds
Finish
Start
#
Competitor
Hometown
Time
1
2
68
Michael Barnes Mexico, NY
Mexico, NY
15.428
2
7
52
Dave Danzer Oswego, NY
Oswego, NY
15.491
3
5
O1
Dan Connors Jr Oswego, NY
Oswego, NY
15.519
4
29
39
Alison Sload Glenmore, PA
Glenmore, PA
15.561
5
27
95
Dave Shullick Jr North Ridgeville, OH
North Ridgeville, OH
15.585
6
31
98T
Tyler Thompson Oswego, NY
Oswego, NY
15.608
7
28
7
Otto Sitterly Canajoharie, NY
Canajoharie, NY
15.612
8
1
O5
Jeff Abold Baldwinsville, NY
Baldwinsville, NY
15.626
9
4
22
Mike Bruce Oswego, NY
Oswego, NY
15.663
10
3
O2
Brandon Bellinger Fulton, NY
Fulton, NY
15.746
11
16
22M
Mike McVetta Medina, OH
Medina, OH
15.761
12
25
O1S
Bobby Santos III Franklon, MA
Franklon, MA
15.774
13
26
11
Ben Seitz Bourne, MA
Bourne, MA
15.824
14
14
37
Ryan Locke Chester, NH
Chester, NH
15.829
15
30
0
Tim Snyder Oswego, NY
Oswego, NY
15.863
16
22
54
Camden Proud Oswego, NY
Oswego, NY
15.884
17
17
15
Michael Muldoon Jr Baldwinsville, NY
Baldwinsville, NY
15.910
18
9
OO
Joe Gosek Oswego, NY
Oswego, NY
15.920
19
18
61
Mike Ordway Jr Lincoln, ME
Lincoln, ME
15.921
20
23
94
Logan Rayvals Brockville, ON
Brockville, ON
15.972
21
11
83
Lou LeVea Jr Fulton, NY
Fulton, NY
15.995
22
20
90
Jack Patrick Fulton, NY
Fulton, NY
16.123
23
19
75
Brian Osetek Oswego, NY
Oswego, NY
16.152
24
6
99
Jerry Curran Scriba, NY
Scriba, NY
16.212
25
10
27
Aric Iosue Oswego, NY
Oswego, NY
16.351
26
13
32
Moe Lilje Clyde, OH
Clyde, OH
16.434
27
32
41
Russ Wood Sr Pelham, NH
Pelham, NH
16.472
28
15
70
Dave McKnight Jr Brampton, ON
Brampton, ON
16.673
29
12
66
Lou LeVea Sr Volney, NY
Volney, NY
16.750
30
24
78
Mark Sammut London, ON
London, ON
16.855
31
8
51
David Duggan Jr Milford, NH
Milford, NH
16.930
32
21
99Q
Joey Payne Brick Township, NJ
Brick Township, NJ
16.969
Finish
Start
#
Competitor
Hometown
Time
1
28
7
Otto Sitterly Canajoharie, NY
Canajoharie, NY
15.657
2
7
52
Dave Danzer Oswego, NY
Oswego, NY
15.698
3
27
95
Dave Shullick Jr North Ridgeville, OH
North Ridgeville, OH
15.735
4
31
98T
Tyler Thompson Oswego, NY
Oswego, NY
15.796
5
2
68
Michael Barnes Mexico, NY
Mexico, NY
15.872
6
25
O1S
Bobby Santos III Franklon, MA
Franklon, MA
15.883
7
17
15
Michael Muldoon Jr Baldwinsville, NY
Baldwinsville, NY
15.900
8
29
39
Alison Sload Glenmore, PA
Glenmore, PA
15.902
9
4
22
Mike Bruce Oswego, NY
Oswego, NY
15.944
10
1
O5
Jeff Abold Baldwinsville, NY
Baldwinsville, NY
15.957
11
23
94
Logan Rayvals Brockville, ON
Brockville, ON
15.975
12
5
O1
Dan Connors Jr Oswego, NY
Oswego, NY
16.010
13
26
11
Ben Seitz Bourne, MA
Bourne, MA
16.056
14
3
O2
Brandon Bellinger Fulton, NY
Fulton, NY
16.083
15
14
37
Ryan Locke Chester, NH
Chester, NH
16.130
16
22
54
Camden Proud Oswego, NY
Oswego, NY
16.146
17
6
99
Jerry Curran Scriba, NY
Scriba, NY
16.157
18
30
0
Tim Snyder Oswego, NY
Oswego, NY
16.163
19
16
22M
Mike McVetta Medina, OH
Medina, OH
16.232
20
11
83
Lou LeVea Jr Fulton, NY
Fulton, NY
16.288
21
9
OO
Joe Gosek Oswego, NY
Oswego, NY
16.296
22
10
27
Aric Iosue Oswego, NY
Oswego, NY
16.398
23
19
75
Brian Osetek Oswego, NY
Oswego, NY
16.504
24
13
32
Moe Lilje Clyde, OH
Clyde, OH
16.687
25
20
90
Jack Patrick Fulton, NY
Fulton, NY
16.715
26
15
70
Dave McKnight Jr Brampton, ON
Brampton, ON
16.718
27
32
41
Russ Wood Sr Pelham, NH
Pelham, NH
16.803
28
24
78
Mark Sammut London, ON
London, ON
16.916
29
8
51
David Duggan Jr Milford, NH
Milford, NH
16.947
30
21
99Q
Joey Payne Brick Township, NJ
Brick Township, NJ
16.992
31
12
66
Lou LeVea Sr Volney, NY
Volney, NY
17.053
32
18
61
Mike Ordway Jr Lincoln, ME
Lincoln, ME
19.693
Finish
Start
#
Competitor
Hometown
Time
1
27
95
Dave Shullick Jr North Ridgeville, OH
North Ridgeville, OH
15.820
2
31
98T
Tyler Thompson Oswego, NY
Oswego, NY
15.916
3
4
22
Mike Bruce Oswego, NY
Oswego, NY
15.957
4
5
O1
Dan Connors Jr Oswego, NY
Oswego, NY
15.962
5
2
68
Michael Barnes Mexico, NY
Mexico, NY
15.972
6
14
37
Ryan Locke Chester, NH
Chester, NH
16.009
7
29
39
Alison Sload Glenmore, PA
Glenmore, PA
16.033
8
16
22M
Mike McVetta Medina, OH
Medina, OH
16.126
9
3
O2
Brandon Bellinger Fulton, NY
Fulton, NY
16.152
10
26
11
Ben Seitz Bourne, MA
Bourne, MA
16.233
11
11
83
Lou LeVea Jr Fulton, NY
Fulton, NY
16.345
12
10
27
Aric Iosue Oswego, NY
Oswego, NY
16.353
13
9
OO
Joe Gosek Oswego, NY
Oswego, NY
16.391
14
20
90
Jack Patrick Fulton, NY
Fulton, NY
16.582
15
24
78
Mark Sammut London, ON
London, ON
16.743
16
19
75
Brian Osetek Oswego, NY
Oswego, NY
16.748
17
32
41
Russ Wood Sr Pelham, NH
Pelham, NH
16.753
18
8
51
David Duggan Jr Milford, NH
Milford, NH
16.793
19
13
32
Moe Lilje Clyde, OH
Clyde, OH
16.978
20
12
66
Lou LeVea Sr Volney, NY
Volney, NY
17.265
21
21
99Q
Joey Payne Brick Township, NJ
Brick Township, NJ
17.700
22
18
61
Mike Ordway Jr Lincoln, ME
Lincoln, ME
19.749
DNS
1
O5
Jeff Abold Baldwinsville, NY
Baldwinsville, NY
DNS
6
99
Jerry Curran Scriba, NY
Scriba, NY
DNS
7
52
Dave Danzer Oswego, NY
Oswego, NY
DNS
15
70
Dave McKnight Jr Brampton, ON
Brampton, ON
DNS
17
15
Michael Muldoon Jr Baldwinsville, NY
Baldwinsville, NY
DNS
22
54
Camden Proud Oswego, NY
Oswego, NY
DNS
23
94
Logan Rayvals Brockville, ON
Brockville, ON
DNS
25
O1S
Bobby Santos III Franklon, MA
Franklon, MA
DNS
28
7
Otto Sitterly Canajoharie, NY
Canajoharie, NY
DNS
30
0
Tim Snyder Oswego, NY
Oswego, NY
J&S Paving 350 Supermodifieds
Finish
Start
#
Competitor
Hometown
Time
1
2
14
Jeffrey Battle Westford, MA
Westford, MA
16.666
2
9
47
Jim Storace Kingston, NH
Kingston, NH
16.799
3
1
31
Nick Barzee Syracuse, NY
Syracuse, NY
16.824
4
7
26
Josh Sokolic Camillus, NY
Camillus, NY
16.845
5
10
75
Brendan Young Oswego, NY
Oswego, NY
16.896
6
6
20
Kyle Perry Fulton, NY
Fulton, NY
16.983
7
4
50
Dave Cliff Oswego, NY
Oswego, NY
17.056
8
8
23
Kali Spaulding Oswego, NY
Oswego, NY
17.270
9
5
O4
Griffin Miller Scriba, NY
Scriba, NY
17.307
10
3
21
Ryan Battle Westford, MA
Westford, MA
17.490
Finish
Start
#
Competitor
Hometown
Time
1
7
26
Josh Sokolic Camillus, NY
Camillus, NY
16.747
2
1
31
Nick Barzee Syracuse, NY
Syracuse, NY
16.771
3
6
20
Kyle Perry Fulton, NY
Fulton, NY
16.890
4
4
50
Dave Cliff Oswego, NY
Oswego, NY
17.122
5
10
75
Brendan Young Oswego, NY
Oswego, NY
17.206
6
8
23
Kali Spaulding Oswego, NY
Oswego, NY
17.256
7
3
21
Ryan Battle Westford, MA
Westford, MA
17.319
DNS
2
14
Jeffrey Battle Westford, MA
Westford, MA
DNS
5
O4
Griffin Miller Scriba, NY
Scriba, NY
DNS
9
47
Jim Storace Kingston, NH
Kingston, NH
Pathfinder Bank SBS
Finish
Start
#
Competitor
Hometown
Time
1
1
37
Jesse Bearup Redwood, NY
Redwood, NY
18.436
2
2
74
Mike Bond Mexico, NY
Mexico, NY
18.592
3
18
73
Noah Ratcliff Oswego, NY
Oswego, NY
18.702
4
8
29
Shaun Gosselin Fox Lake, IL
Fox Lake, IL
18.753
5
13
9
Griffin Miller Scriba, NY
Scriba, NY
18.767
6
24
4
Rob Wirth Oswego, NY
Oswego, NY
18.875
7
5
24
Tony DeStevens Oswego, NY
Oswego, NY
18.919
8
3
22
Mike Bruce Oswego, NY
Oswego, NY
18.923
9
20
77
Cameron Rowe Oswego, NY
Oswego, NY
18.925
10
11
23
Dan Kapuscinski Fulton, NY
Fulton, NY
18.939
11
21
18
Andrew Schartner Charlotte, NC
Charlotte, NC
18.947
12
15
72
Drew Pascuzzi Oswego, NY
Oswego, NY
19.008
13
22
62
DJ Shuman Oswego, NY
Oswego, NY
19.149
14
12
35
Anthony Larkin Oswego, NY
Oswego, NY
19.160
15
14
OO
Jude Parker Oswego, NY
Oswego, NY
19.290
16
10
86
Bryan Haynes Odenton, MD
Odenton, MD
19.303
17
9
88
Brad Haynes Mexico, NY
Mexico, NY
19.336
18
6
10
Mike Fowler Fulton, NY
Fulton, NY
19.340
19
17
90
Tony Pisa Oswego, NY
Oswego, NY
19.438
20
23
2
Jordan Sullivan Oswego, NY
Oswego, NY
19.741
21
19
O1
Greg Richardson Auburn, NY
Auburn, NY
19.826
22
4
20
Tessa Crawford Sterling, NY
Sterling, NY
20.007
23
7
55
Carter Gates Oswego, NY
Oswego, NY
20.157
24
16
67
Ken Pierce Oswego, NY
Oswego, NY
20.339
Finish
Start
#
Competitor
Hometown
Time
1
18
73
Noah Ratcliff Oswego, NY
Oswego, NY
18.680
2
2
74
Mike Bond Mexico, NY
Mexico, NY
18.681
3
1
37
Jesse Bearup Redwood, NY
Redwood, NY
18.716
4
11
23
Dan Kapuscinski Fulton, NY
Fulton, NY
18.785
5
5
24
Tony DeStevens Oswego, NY
Oswego, NY
18.927
6
8
29
Shaun Gosselin Fox Lake, IL
Fox Lake, IL
18.965
7
14
OO
Jude Parker Oswego, NY
Oswego, NY
18.997
8
22
62
DJ Shuman Oswego, NY
Oswego, NY
19.042
9
20
77
Cameron Rowe Oswego, NY
Oswego, NY
19.043
10
15
72
Drew Pascuzzi Oswego, NY
Oswego, NY
19.068
11
17
90
Tony Pisa Oswego, NY
Oswego, NY
19.107
12
3
22
Mike Bruce Oswego, NY
Oswego, NY
19.126
13
13
9
Griffin Miller Scriba, NY
Scriba, NY
19.128
14
24
4
Rob Wirth Oswego, NY
Oswego, NY
19.234
15
12
35
Anthony Larkin Oswego, NY
Oswego, NY
19.290
16
6
10
Mike Fowler Fulton, NY
Fulton, NY
19.300
17
10
86
Bryan Haynes Odenton, MD
Odenton, MD
19.363
18
23
2
Jordan Sullivan Oswego, NY
Oswego, NY
19.657
19
4
20
Tessa Crawford Sterling, NY
Sterling, NY
19.744
20
19
O1
Greg Richardson Auburn, NY
Auburn, NY
19.758
21
9
88
Brad Haynes Mexico, NY
Mexico, NY
22.042
22
16
67
Ken Pierce Oswego, NY
Oswego, NY
22.100
DNS
7
55
Carter Gates Oswego, NY
Oswego, NY
DNS
21
18
Andrew Schartner Charlotte, NC
Charlotte, NC
Finish
Start
#
Competitor
Hometown
Time
1
1
37
Jesse Bearup Redwood, NY
Redwood, NY
18.513
2
18
73
Noah Ratcliff Oswego, NY
Oswego, NY
18.537
3
2
74
Mike Bond Mexico, NY
Mexico, NY
18.685
4
13
9
Griffin Miller Scriba, NY
Scriba, NY
18.744
5
5
24
Tony DeStevens Oswego, NY
Oswego, NY
18.842
6
11
23
Dan Kapuscinski Fulton, NY
Fulton, NY
18.849
7
15
72
Drew Pascuzzi Oswego, NY
Oswego, NY
18.877
8
3
22
Mike Bruce Oswego, NY
Oswego, NY
18.893
9
20
77
Cameron Rowe Oswego, NY
Oswego, NY
18.953
10
21
18
Andrew Schartner Charlotte, NC
Charlotte, NC
18.969
11
8
29
Shaun Gosselin Fox Lake, IL
Fox Lake, IL
19.015
12
22
62
DJ Shuman Oswego, NY
Oswego, NY
19.106
13
12
35
Anthony Larkin Oswego, NY
Oswego, NY
19.195
14
17
90
Tony Pisa Oswego, NY
Oswego, NY
19.196
15
10
86
Bryan Haynes Odenton, MD
Odenton, MD
19.231
16
14
OO
Jude Parker Oswego, NY
Oswego, NY
19.235
17
9
88
Brad Haynes Mexico, NY
Mexico, NY
19.288
18
6
10
Mike Fowler Fulton, NY
Fulton, NY
19.326
19
24
4
Rob Wirth Oswego, NY
Oswego, NY
19.419
20
23
2
Jordan Sullivan Oswego, NY
Oswego, NY
19.641
21
7
55
Carter Gates Oswego, NY
Oswego, NY
19.884
22
19
O1
Greg Richardson Auburn, NY
Auburn, NY
19.887
23
16
67
Ken Pierce Oswego, NY
Oswego, NY
20.384
24
4
20
Tessa Crawford Sterling, NY
Sterling, NY
20.406
DLM Super Stocks
Finish
Start
#
Competitor
Hometown
+/-
1
6
71
Garrett Zacharias Candor, NY
Candor, NY
5
2
2
O9
Jacob Gustafson Webster, NY
Webster, NY
-
3
8
72C
Andy Cryan Concord, NC
Concord, NC
5
4
7
27
Evan Rygielski Wilkes-Barre, PA
Wilkes-Barre, PA
3
5
11
18B
Billy Both Oswego, NY
Oswego, NY
6
6
16
46
Jake Wylie Derby, NY
Derby, NY
10
7
5
8
Lee Sharpsteen Waverly, NY
Waverly, NY
-2
8
17
X
Johnny Bennett Oswego, NY
Oswego, NY
9
9
9
48X
Jacob Christman Walnutport, PA
Walnutport, PA
-
10
23
23
Robert Fink Nanticoke, PA
Nanticoke, PA
13
11
19
52
Brad Bushey Fairfax, VT
Fairfax, VT
8
12
22
5B
Brian Granger Oswego, NY
Oswego, NY
10
13
26
O6
TJ Cochrane Cheektowaga, NY
Cheektowaga, NY
13
14
27
90
Nate Peckham Seneca Falls, NY
Seneca Falls, NY
13
15
28
13
Jason Duke Newark Valley, NY
Newark Valley, NY
13
16
30
17
Mike Oddwanzy Oswego, NY
Oswego, NY
14
17
25
37
Jason Dinzler Rodman, NY
Rodman, NY
8
18
12
20
Eric Kocher Danielsville, PA
Danielsville, PA
-6
19
24
20D
Brian DeMark Erin, NY
Erin, NY
5
20
15
2B
Bill Frisbie Spencer, NY
Spencer, NY
-5
21
21
71G
Tim Gullo Elmira, NY
Elmira, NY
-
22
20
36
Brian Hallett Avon, NY
Avon, NY
-2
23
14
87
Mike Hyman Macedon, NY
Macedon, NY
-9
24
10
51
Barrett Schenk Canandaigua, NY
Canandaigua, NY
-14
25
4
4VT
Chris Riendeau Ascutney, VT
Ascutney, VT
-21
26
13
9
Griffin Miller Scriba, NY
Scriba, NY
-13
27
29
81
Tom Reese II West Seneca, NY
West Seneca, NY
2
28
3
56
Jimmy Steffenhagen Fairport, NY
Fairport, NY
-25
29
1
0
DJ Shaw Waverly, NY
Waverly, NY
-28
30
18
2C
Colton Ingerick Caledonia, NY
Caledonia, NY
-12
Finish
Start
#
Competitor
Hometown
+/-
1
2
4VT
Chris Riendeau Ascutney, VT
Ascutney, VT
1
2
3
O9
Jacob Gustafson Webster, NY
Webster, NY
1
3
5
9
Griffin Miller Scriba, NY
Scriba, NY
2
4
6
46
Jake Wylie Derby, NY
Derby, NY
2
5
9
71G
Tim Gullo Elmira, NY
Elmira, NY
4
6
1
O6
TJ Cochrane Cheektowaga, NY
Cheektowaga, NY
-5
7
4
90
Nate Peckham Seneca Falls, NY
Seneca Falls, NY
-3
8
7
81B
Eric Brown Colden, NY
Colden, NY
-1
9
8
6
Dennis Richmond Constantia, NY
Constantia, NY
-1
Finish
Start
#
Competitor
Hometown
+/-
1
7
71
Garrett Zacharias Candor, NY
Candor, NY
6
2
1
0
DJ Shaw Waverly, NY
Waverly, NY
-1
3
4
18B
Billy Both Oswego, NY
Oswego, NY
1
4
2
X
Johnny Bennett Oswego, NY
Oswego, NY
-2
5
3
5B
Brian Granger Oswego, NY
Oswego, NY
-2
6
5
34
Charlie Sharpsteen Waverly, NY
Waverly, NY
-1
7
9
18
Jason Duke Jr Berkshire, NY
Berkshire, NY
2
8
6
13X
Cameron Rowe Jr Oswego, NY
Oswego, NY
-2
9
8
13
Jason Duke Newark Valley, NY
Newark Valley, NY
-1
Finish
Start
#
Competitor
Hometown
+/-
1
1
72C
Andy Cryan Concord, NC
Concord, NC
-
2
2
2B
Bill Frisbie Spencer, NY
Spencer, NY
-
3
4
87
Mike Hyman Macedon, NY
Macedon, NY
1
4
6
2C
Colton Ingerick Caledonia, NY
Caledonia, NY
2
5
7
23
Robert Fink Nanticoke, PA
Nanticoke, PA
2
6
5
5
Cameron Nichols Elmira, NY
Elmira, NY
-1
7
3
85
Abe Romanik
-4
8
8
10
Charles Palmer Cheektowaga, NY
Cheektowaga, NY
-
Finish
Start
#
Competitor
Hometown
+/-
1
2
8
Lee Sharpsteen Waverly, NY
Waverly, NY
1
2
3
51
Barrett Schenk Canandaigua, NY
Canandaigua, NY
1
3
8
20
Eric Kocher Danielsville, PA
Danielsville, PA
5
4
1
52
Brad Bushey Fairfax, VT
Fairfax, VT
-3
5
6
20D
Brian DeMark Erin, NY
Erin, NY
1
6
4
75H
Jim House Middletown, NY
Middletown, NY
-2
7
7
75
Chris Batorski
-
8
5
99
Tim Faro Newark, NY
Newark, NY
-3
Finish
Start
#
Competitor
Hometown
+/-
1
1
48X
Jacob Christman Walnutport, PA
Walnutport, PA
-
2
3
27
Evan Rygielski Wilkes-Barre, PA
Wilkes-Barre, PA
1
3
2
56
Jimmy Steffenhagen Fairport, NY
Fairport, NY
-1
4
7
36
Brian Hallett Avon, NY
Avon, NY
3
5
6
37
Jason Dinzler Rodman, NY
Rodman, NY
1
6
4
17
Mike Oddwanzy Oswego, NY
Oswego, NY
-2
7
8
33
Brianna Dinzler NY, NY
NY, NY
1
8
9
29
Dan Tingue Jr Palmyra, NY
Palmyra, NY
1
9
5
81
Tom Reese II West Seneca, NY
West Seneca, NY
-4