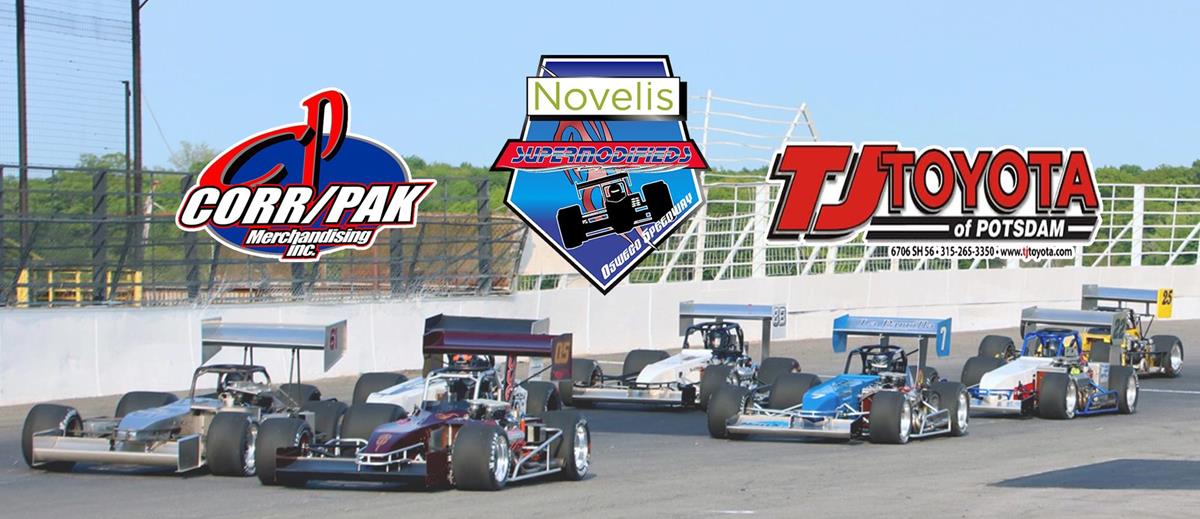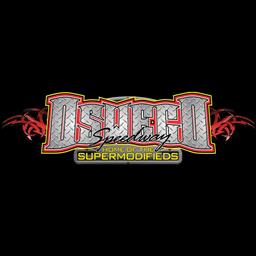 10/23/2023
Oswego Speedway
---
Corr/Pak and TJ Toyota Back Onboard to Boost Jim Shampine Memorial to $4,000 to Win, $1,200 Start; 2024 Five-Race Challenge Opens May 25
OSWEGO, NY (October 23, 2023) - Oswego Speedway Supermodified Challenge promoter John Nicotra is proud to announce that Corr/Pak and TJ Toyota are back onboard as partners for 2024 and will once again boost the Speedway's Season Opening 75-lap Jim Shampine Memorial to $4,000 to win and $1,200 start for Novelis Supermodifieds on Saturday, May 25.
"We are very fortunate to have the continued support of John Brush at Corr/Pak Merchandising and Ed Cloce at TJ Toyota as we prepare for the 2024 Oswego Super Challenge," said Nicotra. "Thanks to these partners, we are again able to offer a $36,000 purse to Supermodified teams who partake in the Shampine Memorial, which will be the first of our five challenge races this coming season."
The Oswego Super Challenge, which began in 2022 as a three-race top wing series, grew in 2023 to include both the Novelis Supermodified Jim Shampine Memorial as well as the 67th Annual Budweiser International Classic 200.
For 2024, the Challenge format will now feature three Oswego Novelis Supermodified tail wing shows for the first time beginning with the Shampine Memorial on May 25, new this season; the 75-lap, $10,000 to win Mr. Novelis Supermodified on August 10, and of course, closes with the 68th running of the Budweiser International Classic 200 on September 1.
In addition to the three Novelis Supermodified races, the winged warriors of the merged ISMA / MSS series will make their return to the Big O for two June events slated for the 1st and 29th - again paying a hefty $6,000 to win and $1,200 to start as part of a $41,000 purse structure.
All five shows will again award Oswego Super Challenge points counting towards the lucrative end of year payout, with $5,000 up for grabs to become the overall Challenge champion and an additional $20,000-plus spread across the remainder of the top 10.
The three Oswego Novelis Supermodified shows will continue to utilize the Oswego Speedway points system, while the two top wing shows will utilize the ISMA / MSS point system.
Come 2025, Nicotra announced that the five-race format will switch back to (3) top wing races and (2) tail wing races, alternating each year.
Several of the drivers who finished top 10 in last season's standings have shown early interest in all five legs of the 2024 Challenge including defending champion Otto Sitterly, who narrowly bested co runner-up's Ben Seitz and Mike Ordway Jr. by just three points.
Defending International Classic champion Dave Danzer was fourth in 2023 Challenge points, followed by Michael Muldoon, Mike McVetta, Dan Connors Jr, Mark Sammut, Russ Wood and Aric Iosue in the top 10.
The full 2024 Oswego Speedway schedule will be released Wednesday. Visit the track website at OswegoSpeedway.com, LIKE on Facebook at Facebook.com/OswegoSpeedway, FOLLOW on X @OswegoSpeedway or Instagram @OfficialOswegoSpeedway for continued updates.
A detailed 2024 Oswego Speedway Supermodified Challenge schedule and full purse for the 75-lap Jim Shampine Memorial can be found below.
2024 OSWEGO SPEEDWAY SUPERMODIFIED CHALLENGE:
May 25 - 73RD SEASON KICKOFF - $4,000 to win Novelis Supermodified Jim Shampine Memorial - Challenge Race #1 (75), Pathfinder Bank SBS Tony White Memorial (35), J&S Paving 350 Supers (30)
June 1 - ISMA / MSS WINGED CHALLENGE #2 - ISMA / MSS / Oswego Novelis Supers Challenge Race #2 (50), Pathfinder Bank SBS (35), J&S Paving 350 Supers (30)
June 29 - ISMA / MSS WINGED CHALLENGE #3 - ISMA / MSS / Oswego Novelis Supers Challenge Race #3 (50), Pathfinder Bank SBS (35), J&S Paving 350 Supers (30)
August 10 - 37TH ANNUAL $10,000 TO WIN MR. NOVELIS SUPERMODIFIED - Challenge Race #4 (75), 32nd Annual $1,500 to win Mr. Pathfinder Bank SBS (35), 4th Annual $2,000 to win Mr. J&S Paving 350 Supermodified (30)
September 1 - 68TH ANNUAL BUDWEISER CLASSIC SUNDAY - 68th Annual Budweiser International Classic for Novelis Supermodifieds - Challenge Race #5 (200), 33rd Annual Bud Light Classic for Pathfinder Bank SBS (60), 7th Annual Bud Light Classic for J&S Paving 350 Supermodifieds (50)
33RD ANNUAL JIM SHAMPINE MEMORIAL 75 PURSE STRUCTURE FOR NOVELIS SUPERMODIFIEDS (SATURDAY, MAY 25, 2024 - OSWEGO SPEEDWAY):
$4,000
$2,500
$2,200
$2,000
$1,800
$1,600
$1,400
$1,300
9 through 24 $1,200
TOTAL PURSE = $36,000
---
Submitted By: CAMDEN PROUD
Back to News