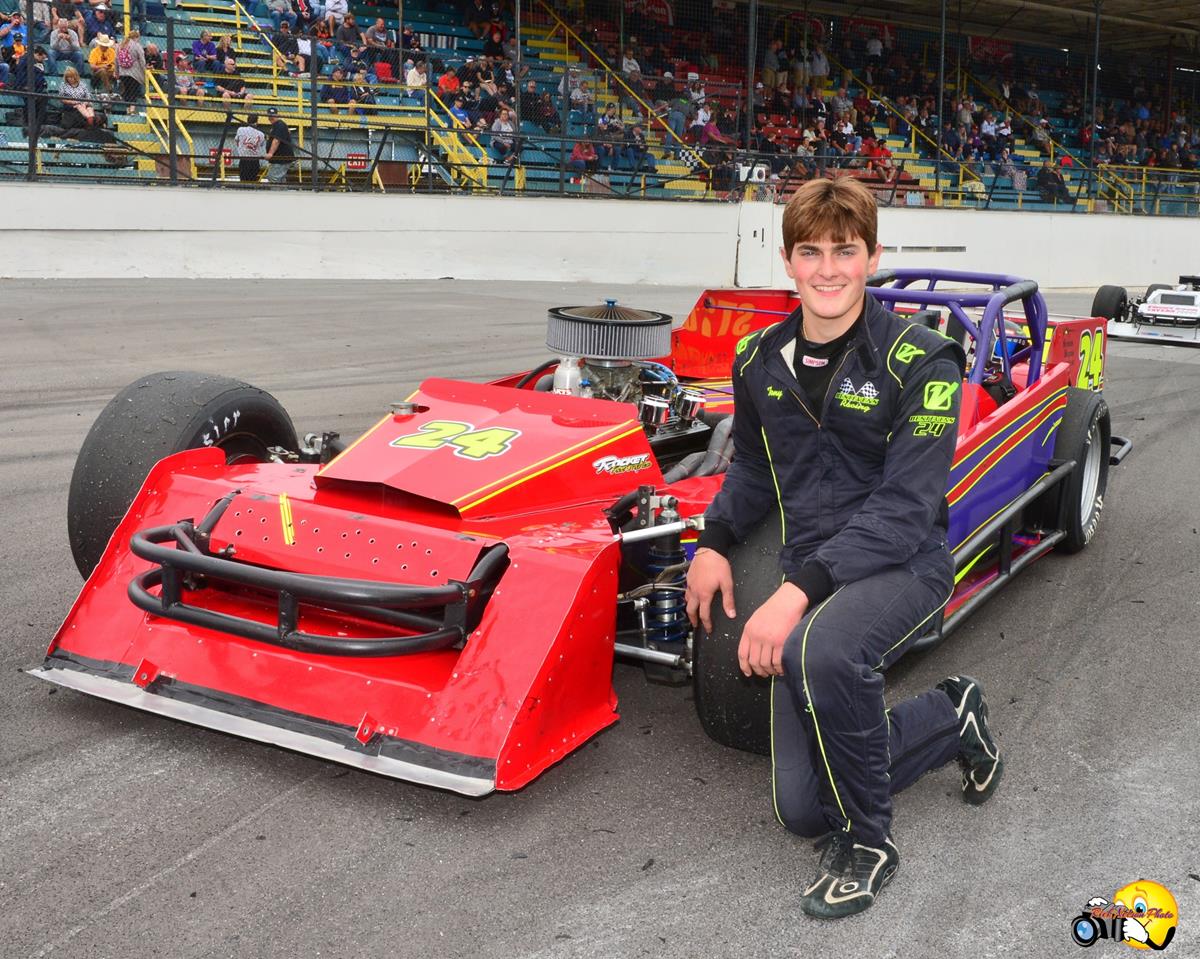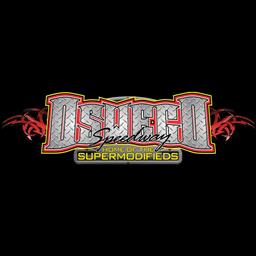 12/29/2022
Oswego Speedway
---
Two Cars, Two Divisions for Teenaged Driver Tony DeStevens This Season
OSWEGO, NY (December 29, 2022) - Since the switch to GM Performance 602 crate engines in 2019, Oswego Speedway's Pathfinder Bank SBS division has been growing as fast as ever; as a total of 11 rookie drivers entered points events at the Speedway this past season, one of which was 17 year-old Quarter Midget graduate, Tony DeStevens.
Piloting the former Tim Barbeau owned No. 50 driven by Dave Cliff, DeStevens was able to put together a solid debut season which included an impressive stretch of seven top 10 finishes in eight total features, highlighted by his first career podium finish on Track Championship Night, when he charged from fourteenth to finish third behind Dan Kapuscinski and Griffin Miller.
On Classic Weekend, the DeStevens team had the No. 24 tuned in again, and Tony promptly qualified into the sixth position with a season best 18.809 second lap, just missing a stout top five that included Kapuscinski, Mike Bond, and Noah Ratcliff.
"I think as the year went on we made good progress," DeStevens reflected. "In July we put a new motor in and changed the entire setup, so I think just playing with stuff, we got the car to react how I wanted to and I got better with driving it, so I think all in all for a rookie year it was pretty good."
Having moderate success early in the season, the DeStevens Family was really able to turn the corner in late-July, and that is something Tony attributes in-part to help from two track champion drivers; Dan Kapuscinski and Anthony Losurdo, as well as Anthony's father, Jim, who along with older brother Joey DeStevens, spent countless hours in the shop making several improvements to the car mid-season.
"Dan Kapuscinski and Anthony Losurdo gave me some really helpful driving tips that I applied to the way I drive," mentioned DeStevens. "Then, Jim Losurdo and my brother put both their heads together to figure out what was wrong with the car and they found that the rear end was a bit out of whack, the front end alignment was a little out of whack, and we also made the motor change because we felt like we were lacking a little there and all of those things helped."
After finishing the regular season strong, and impressing on Bud Classic Pole Day, DeStevens backed up his qualifying effort with a competitive top five finish in the Bud Light SBS Classic 60, a profound accomplishment on his first Classic Weekend. The Oswego High School senior was also the highest finishing rookie in the race.
"Classic was good. I enjoyed running the longer race," DeStevens said. "I liked it when we were green for a while, because on the restarts I wasn't too hot, but we qualified sixth, and I just tried to hang out and avoid the wrecks, and we ended up being there at the end. I think I was around ninth for a while and then just chipped them off for a while as we went on."
With momentum on his side and confidence building, when DeStevens was asked of his goals for the coming season, he said; "I think obviously everyone is doing this to win, but I think if we could tie together a couple more podiums and race more consistently in the top five throughout the year then that would be good."
But, as it would turn out, there will be much more on the docket for this family team in 2023. Just as Tony started to come into his own in the SBS division, no sooner did he find a soon-to-be 350 Supermodified in his shop as the DeStevens Family decided to purchase the former Joe Gosek Xtreme Chassis last summer.
"The 350 was actually my Dad's idea, and we ended up getting it as a rolling Super right after the Twin 20's this past year," stated DeStevens. "It really kind of just all fell together. We didn't have any real plans, I knew we would move up eventually, but just not as quickly as we did."
In preparation for DeStevens' part-time move to the 350 Super division towards the end of this season, once again brother Joey; who has taken over the reigns of chief wrench and fabricator for the team, already has the car nearly race ready before the New Year.
"Joey has done a lot of work on the car," mentioned DeStevens. "He cut off all the independent front suspension to put a straight axle in, went through and re-built the rear end, refurbished the top wing, made a bunch of new front wings, powder coated, got a new motor from Enders, then got new struts because we are going to do a cage mount instead of the rear axle now, and also re-did the interior to fit me up to the seat and cockpit a bit better."
As far as any particular plans for the 350 Supermodified so far, he said, "I'm not sure when we'll be out to race it, but we're going to start running a lot of the Fast Fridays. I think we'll do double duty a little towards the end of the year, but I'm not sure what the plan is yet for Classic whether we will run one or both of the cars. Towards the end of the season we will probably look to travel more. Star Classic is one we talked about, and the Sandusky race in October, so we are looking at those in addition to doing all of the Small Block Super Championship traveling series. I thought we ran well at Evans Mills last Fall and I had run racing up there without the pressure of points, so we're looking forward to going there again and seeing what the season brings."
DeStevens was sure to thank brothers Joey and Nick, his Mom, Dad, Jim and Anthony Losurdo, Dan Dennie, Joe Gosek, and the Abold Family for their help, along with Dan Kapuscinski for driving tips.
The DeStevens Racing team also has strong support from sponsors Purple Kitty Yarns, Nuflorz, Stone Creek Golf Club, LaParilla on the Water, Brandon's Pub & Grille, DeStevens Lawncare, Superior Builders, Inc, and Ray Haynes Jr's State Farm Insurance.
Oswego's 72nd Season Kickoff is scheduled for Saturday, May 27th, and will feature the 75-lap Jim Shampine Memorial for Novelis Supermodifieds, 35-lap Tony White Memorial for Pathfinder Bank SBS, and a 30-lap Memorial Weekend Special for the J&S Paving 350 Supermodifieds.
For more information, please visit OswegoSpeedway.com, or you can connect with the track on social media by clicking LIKE on Facebook at Facebook.com/OswegoSpeedway, or FOLLOW on Twitter @OswegoSpeedway or Instagram @OfficialOswegoSpeedway.
About Oswego Speedway: Oswego Speedway is a 5/8 mile semi-banked pavement racing oval located off the shores of Lake Ontario in scenic Oswego, NY. The speedway has been a continuously run weekly racing venue since August 1951. The premier open-wheel pavement short track cars in the world, Supermodifieds, run weekly at the Oswego Speedway making it the only weekly Supermodified racing venue in the world. The Small Block Supermodifieds and 350 Supermodifieds accompany the full blown Supers on a weekly Saturday night schedule which runs from May through September. Oswego Speedway is mentioned in racing circles as the "Indy of the East," as no fewer than a dozen past and present competitors have competed at the famed Indianapolis Motor Speedway including Mario Andretti, two-time Indy 500 champion Gordon Johncock, and former International Classic Champions Bentley Warren, Joe Gosek, and Davey Hamilton.
---
Submitted By: CAMDEN PROUD
Back to News