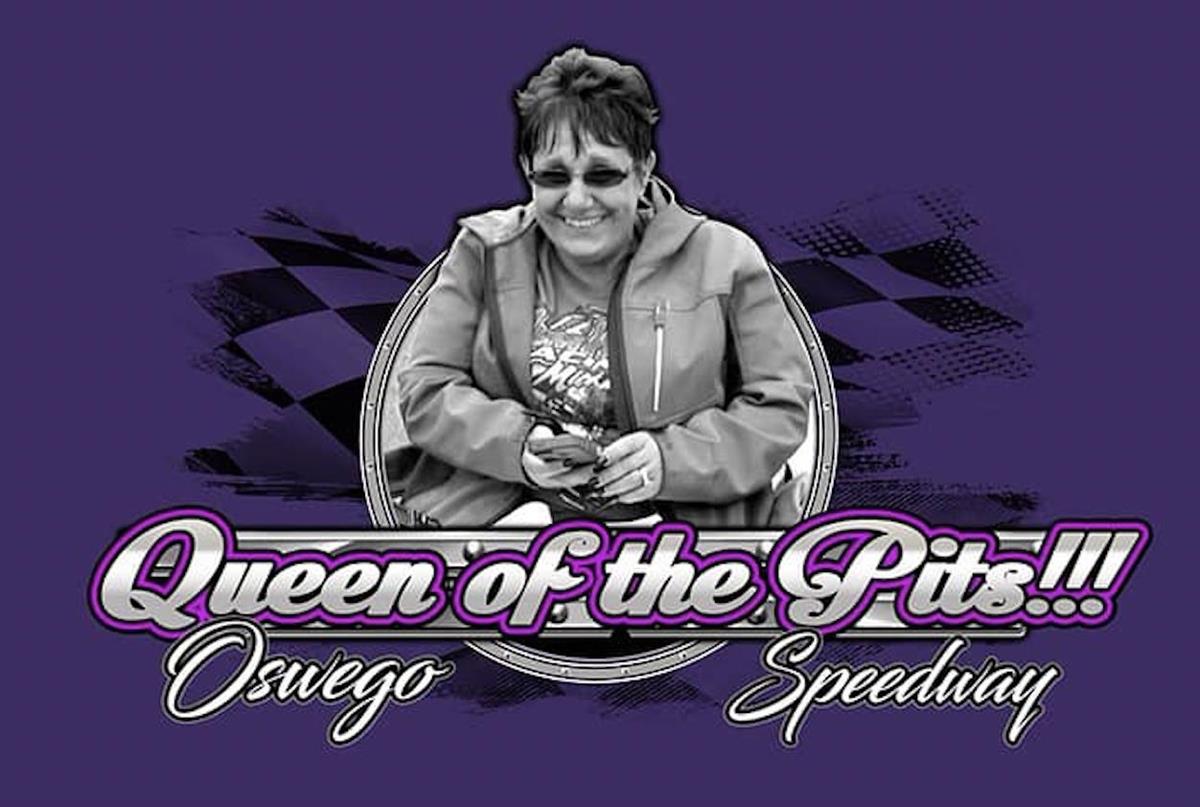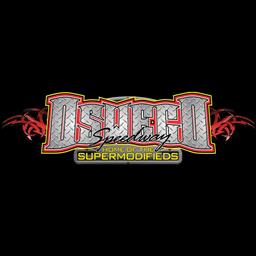 ---
'For Our Queen:' Oswego Speedway 'Painting the Palace Purple' in Memory of Terry Strong; Joey Payne to Pace Mr. Supermodified Field with Strong Racing
OSWEGO, NY (July 20, 2022) - For the 35th annual edition of Mr. Novelis Supermodified this Saturday night, July 23rd, the Oswego Speedway family will 'paint the palace purple' in memory of the 'Queen of the Pits,' Terry Strong.
Terry and her loving husband of 46 years, Pat, are longtime car owners of the Plum Krazy Racing No. 99 Supermodifieds for a host of drivers including Joey Payne, Jerry Curran, Pat Lavery, Michael Barnes, and Dave Cliff.
While Terry thoroughly enjoyed her role as a winning car owner, even more impactful was the way she touched the lives of virtually everyone in the Oswego Speedway pit area, earning her the nickname 'The Queen of the Pits.'
Despite being a hardcore, competitive racer, Strong was first and foremost a friend to anyone and everyone that she came across. After Terry passed in April following a courageous battle with cancer, she left behind an irreplaceable void, impossible to be filled at the Speedway.
Not long after her passing, Terry's family and closest friends, along with her extended Oswego Speedway family, were already hard at work planning a meaningful tribute in her memory, and that is why the palace will be painted purple this Saturday night.
But first, everyone is invited to stop by Lighthouse Lanes for a benefit in Strong's memory from 12 to 4pm, just before the races.
Pulled pork will be available at $13 per dinner or $25 for two dinners along with several raffle prizes, with all proceeds supporting race teams participating in the 66th edition of Budweiser International Classic Weekend this September.
To celebrate Terry's favorite holiday (Christmas), the Speedway has also organized a toy drive that will benefit Toys for Tots. Toys can be brought to the Speedway Saturday and will be given back to children in need across Oswego County.
Purple 'Queen of the Pits' shirts, featuring Terry and the former Strong Racing Supermodifieds, can be purchased at Lighthouse Lanes as well. The cost is $25 per shirt, with all encouraged to wear them to the track on Saturday. Net proceeds from shirt sales will also benefit Oswego race teams on Classic Weekend.
All this will take place before the 'Jersey Jet' Joey Payne, who shared a special bond with Terry for decades, hops back behind the wheel of the Strong Racing No. 99; the car he earned his first non-wing Oswego win with as a driver, as well Pat and Terry's first Oswego win as car owners, to pace the field for the $10,000 to win Mr. Novelis Supermodified event.
"We're doing all of this to honor my wife and what she meant to the racing family at the Oswego Speedway," said Pat Strong. "Working on the car for Joey (Payne) to take it out and planning for the event has also got me going in a really dark time. I've been busy constantly putting the race car back together. I know that this whole event is something she really would have wanted and I would do anything for her. The last four or five weeks have been pretty hectic getting everything together and finding help from everybody. Yesterday we took the car up to the Speedway to get it running again. Jerry Curran helped me fire it up and we got that figured all out, and then Kathy Gioia came down and re-lettered the car to look exactly like it did in 2009 when Joey got our first win with it. It is going to be one sharp piece and a very emotional night I can tell you that. And I wanted to mention that there are actually about 15 people on this committee that Terry's daughter Heidi has put together. It is a committee of volunteers from Terry's best friends to family that have been planning this in her memory. It is overwhelming the support we have. I've never seen an outpouring like this and it's just crazy to think how many are involved with it. No matter what happens, everyone has sort of asked what my expectations are, and I just want everybody to have a good time, that's all. And that's what Terry would want. Laugh, smile and just have a good time."
There is a ton of sentimentality to the car that is being put back together; a 1994 West Chassis, for both owner and driver, but for more than what meets the eye. Not only is it the car they got their first Oswego win with together, it ironically is because of Payne's father that it ended up in the Strong's hands to begin with.
"That car was originally a Joey Hawksby Sr. deuce," Strong explained. "Then it went to Joey Jr, and then the Payne's bought it. Johnny and Joey both ended up racing it. Our primary car was destroyed in a stuck throttle wreck at Oswego in 2008, and at the time Joey's father had this car sitting in his shop under a tarp. He just wanted to see us race it. So at the time my cousin and a friend went down to Jersey and picked it up and brought it home. After that we got the win and it just instantly became a favorite car. I had opportunities to sell it and I sold the other one instead. I've just kind of kept it sitting around. We were going to put it back together for last year, but then Terry got sick and we were just kind of going through everything, and then everyone was having issues with their cars, so I started rebuilding a lot of rear ends and never got to work on it again until now."
Then, Payne received a text message from Terry just days before her passing in April. It read, "my wish is for you to drive for me one more time," and that is when all of these plans started to come to fruition. Of course, the message stuck with everyone since, and now the car is back together to make Terry's wish come true.
When asked to describe Terry's treasured relationship with Joey in his own words, Pat summed it all up perfectly, saying, "I looked at the text message between Joey and Terry and it was on I believe the 28th of April. He told me about it, so then I had to get on her phone and there was no doubt about it, she really wanted to have him in the car one more time and that is the main reason why we are doing it. Terry and Joey always had this really special bond. When you get into racing, a lot of times if you're a car owner then you have certain drivers that you're going to end up being close with, but sometimes people just click together and that's what happened with Joey, my wife, and I. It was like when we sat down at the end of the night, we all just talked and talked. We've always hung around with each other and Joey and I, we can just be like brothers together. And the fact that everything in his life he always shared with us, and everything in our lives we have always shared with him makes it very special. We've always been there for each other and took to each other so well. I guess I don't even know how to explain it. We're just that close and we always have each other's backs. My wife has been close with a lot of drivers we have and what is cool is that they will all be there Saturday I think except maybe for Pat Lavery who is living in Florida now. She babysat Jerry Curran before he drove for us at the beginning, and then Pat she was very close with, Michael Barnes same thing as well, and of course Joey. She kind of became a mother figure to all of them and just had that way about her. As a matter of fact, Jerry and a few of them would call her Mother Theresa all the time. She really took to them like they were one of her own. Like in pretty much anything, there's always people you become close to. In the racing game, that was the way it was with Joey and our other drivers. There's nothing that we wouldn't do for each other."
For Payne, who has a total of three Oswego Supermodified wins including two with the Strongs, plus a multitude of top five finishes, several of which came driving the West car he is pacing the field with, there is nothing that would be more meaningful to him than the opportunity to drive for Pat and Terry one more time.
"When Terry got sick and everything turned bad real fast, like we talked about, I could tell that she was kind of thinking about everything and I got that text that she really wanted me to drive for her again so that's what this is," Payne stated. "What Terry wants Terry gets and that saying kind of came from when I was driving for the Strongs and they used to have to budget on their spending, but Terry always had this saying that whatever Joey wants Joey gets so now she is going to get what she wants. Terry and I were very close. It's kind of hard to explain really, you just don't usually get that close to your car owners. I have been fortunate to drive for a whole bunch of people in my career and a lot of them I have gotten close to, but none of them like I have with Pat and Terry. I stopped driving for them, but up until this day I still stay right at their house when I'm in Oswego and people are kind of like why do you do that, you quit racing for them? I always say because that's what true friendship is for and they are true friends. So this all came about when Pat called me and asked what my plans are for the 10 grand to win race and I told him I don't really have plans. He told me, well I want you to take the 99 out and pace the field, but what if you're going to race? And I told him even if I was going to race then I would park the 14 and do this anyway. That's how much this means to me."
Because Payne's close friendship with the Strong Family spanned decades, the memories the trio have shared are immeasurable, but for Joey, there is one he says probably stands out the most, and in between the tears and emotion of this weekend, its moments like the one he shared that will surely be on his mind.
"Yeah, there are so many good memories, but there's one that really sticks out to me. When Terry got sick the first time with cancer about 12 years ago, she was in the hospital and I called Pat and said look at, I don't want to race. I said you've got to go take care of Terry. I feel like we need to park the car and let her get better," Payne mentioned. "That didn't really work out well because she called me up screaming and yelling and said you better not be thinking about parking my bleeping car. It was just priceless. That shows you the kind of racer she was. So there are moments like that, of course getting the first win, and just how successful that we were with that car. It was 15 years old at that point and I was at the front in pretty much every race with that car. We only got a couple wins, but I can't even count how many times I was in the top five with that thing. We had a couple runner-ups in the points too. So many awesome memories with that team and race car. It will be special to get back in it. I think there will be a whole lot of tears too, but I'll be thinking of all that Saturday. It sort of goes to show you, you don't need to have all the money in the world. You just need to have the right car owners and Pat and Terry were the right ones. The first win I got for them was probably the most special memory ever for me in racing."
Since he has been nursing broken ribs, Payne has yet to make an appearance in the Penix Payne Racing No. 14 in the 2022 season, and this will be the first time he has walked into the track on a race night without Terry being there. While he will return back to the driver's seat in competitive fashion for a regular show and Classic later this year, walking into the Speedway, he says, will never be the same again.
"There is just going to be something different there, something missing," Payne said. "Coming into that place is going to be totally different for me now. It's never going to be the same with no Terry. She was like Mrs. Oswego Speedway. It's just a huge void, but I am honored to do this for her and Pat."
Strong has already been back at the track most every Saturday night this season, helping who he can in the pits, including Curran in the Winged Super Challenge a couple weeks ago. While racing is his greatest passion and something that has continued to keep him busy, it's also not easy, nor is it the same, without his life partner. However, Pat feels the weekend's festivities are something that he really wants to take in and enjoy as much as possible, and that is because he knows how happy it would make Terry.
"It's tough, you know, because the track itself in our marriage and in our life, made a common ground that we were both attracted to," he explained. "When I was dating Terry back when we were 15 years old we used to sit down in the fourth turn together. That is really right where it all started. When we were dating everything was about the race track. Both of our families know it, and a bunch of her sisters and brothers are going to be there Saturday. She was second oldest of nine kids, so there are a few that live out of state who can't make it, and my family is kind of spread across the country too, but my sister Liz and brother Len are avid race fans, and they want to be here but are in Vegas so they are coming back for Classic. Then my brother Dick is out in California and he cant make it back, but my brother Bill is coming in, so family members, cousins, nieces, nephews, there's a lot of them coming, and like I said almost all my drivers will be out there too, and everyone at that track who loved her. She didn't realize how many people she touched at the Speedway just for doing little things that came naturally for her to do. And to have a 'purple out' at the track this weekend is going to be very emotional, but most importantly I think it's going to make her very happy."
While Payne will only be pacing the field in the Strong No. 99, Curran is actually going to compete with his own No. 99 this weekend. The car is the 'Nuclear Banana' again, but of course with a touch of purple for Terry.
"Jerry will be driving his own car as the 99 which was what we started out as together," Strong added. "Then my nephew Jon Tesoriero will be out for the first time of the season in a 350 with the car I built him two or three years ago and he's changing his number to the 99. My sister in law Denise is bringing one of her SBS cars out too that Mike Bond is going to be driving. They are doing something in honor of Terry too. Just about everyone in the pits is doing something, really. Most all of the drivers will have a sticker on their car in honor of my wife. We can't thank everyone enough for the support. It really means a lot to us."
For more information on this weekend's C's Beverage Mr. Supermodified event(s) and all of the festivities planned for Terry Tesoriero Strong, you can visit online OswegoSpeedway.com, or find the "Benefit in memory of Terry Strong - the Queen of the Pits" page on Facebook.
---
Submitted By: CAMDEN PROUD
Back to News