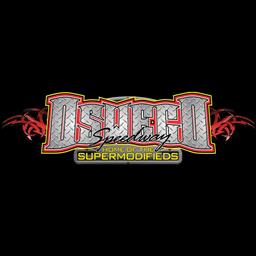 ---
AJ Larkin Puts Third Pathfinder Bank SBS Season of Improvement Under His Belt at Oswego
OSWEGO, NY (August 29, 2023) - Be it as fans, crew members, sponsors, employees, or now even a driver; the Larkin Family has been coming to the Oswego Speedway for decades.
Jim Larkin is a longtime Supermodified fan and has been both a sponsor and crew member for a number of teams, including Hal LaTulip's No. 56 and the Tim Snyder No. 0
Larkin is also a 12-time champion of the Novelis Fan Can Chase, having won the last 11 can chases in a row.
His son Steve, has been handling fuel and tires at the Speedway for the last several seasons.
Three years ago, this Oswego family that has lived for the Speedway and Supermodified racing for countless years, purchased their first race car for competition at the Steel Palace, with Jim's older son AJ tabbed to do the driving in the Pathfinder Bank SBS division.
While Larkin used the 2021 and 2022 seasons to get his feet wet in his first ever experience behind the wheel of a race car of any kind, the driver of the No. 35 Small Block Super has truly made strides throughout 2023, and has been rewarded with lap times towards the top of the charts as well as his first top five finish on August 13.
"Going into my third year, the goal was just to get more seat time and finish as many races as we could and I think we've been able to do that," Larkin said. "I was definitely happy with the first top five and we'd like to be able to get more. We started third that day and held on for a little while, but I pushed up and dropped back a few spots. Finally I was able to get (Mike) Fowler towards the end and get back to a top five."
Having good equipment is very important for any driver, especially one who has no racing experience - and Larkin has a potent weapon to his advantage, the former No. 13 Ray Hedger house car driven by Russ Brown, which currently holds the SBS track record.
"I think it helps having the car we do and my confidence is up," mentioned Larkin. "I've been talking to Greg O'Connor and he's been helping me with certain things on how to feel the car. The improvement is probably a combination of the confidence, having more help, and guidance. It's still the same piece, we made a few changes over the off-season, but I'm just gaining confidence."
For Larkin, who finished off his 2023 season of 1 top five, four top 10's and a best lap of 19.0 with the 'Underdog Award' and a 12th place finish in the Bud Light SBS Classic, 2024 calls for more of the same.
"We are looking at doing the races out of town at the end of the season and the same schedule next year ," Larkin added. "The goal would to be more consistent top 5 and 10 finishes."
Larkin has sponsor support from Premiere Landscaping, Munski Automotive, and Enwright Roofing.
His crew includes his wife, Dad, brother Steve, Mike O'Connor, and the G.O. Racing team.
The 2023 Oswego Speedway season is now officially in the books, with the annual Hall of Fame Awards Banquet drawing everything to a close at Bayshore Grove on Saturday, September 30. Tickets will be made available for purchase online at OswegoSpeedway.com.
---
Submitted By: CAMDEN PROUD
Back to News