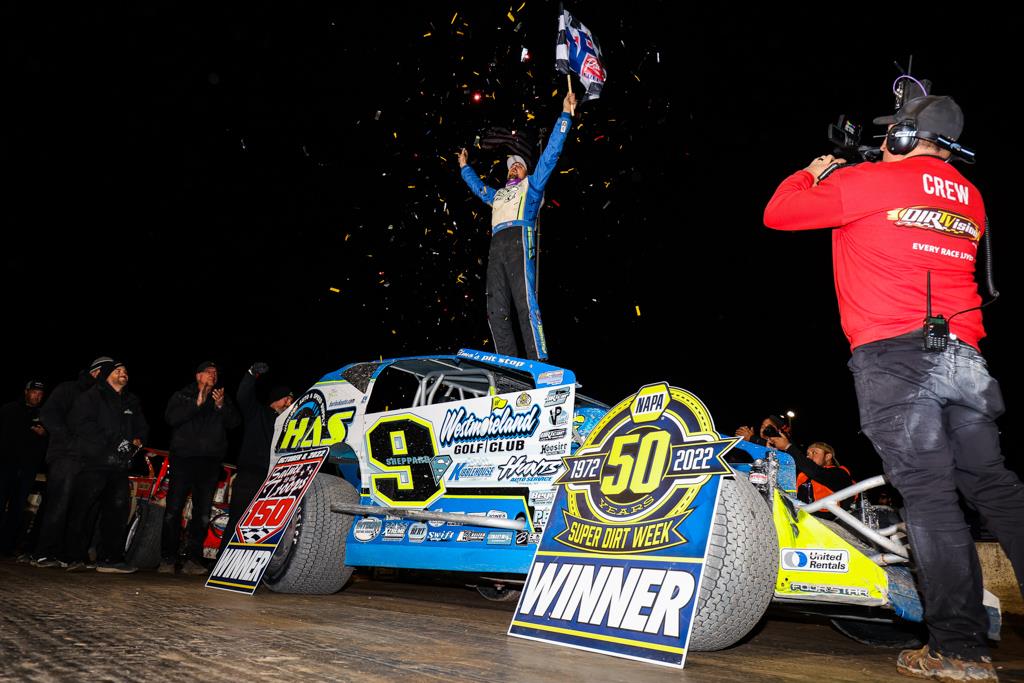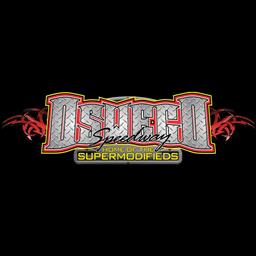 ---
'SUPER MATT' RETURNS: Matt Sheppard Wins Third Salute To The Troops 150 Title
By NICK GRAZIANO / Photo by BRENT SMITH
OSWEGO, NY (October 8, 2022) - Matt Sheppard has shown this "super" strength throughout the 50th Running of NAPA Auto Parts Super DIRT Week, winning the pole and his Qualifying Heat for the Billy Whittaker Cars 200. However, when it came to his 358 Modified, he questioned at times why he brought it.
His answer came Saturday night during the DIRTcar 358 Modified Salute to the Troops 150 at Oswego Speedway.
After suffering a flat left front tire past the halfway point of the race, "Super Matt" soared his way to the front and ran away with this third Super DIRT Week 358 Modified triumph – in his first start in the division in three years.
"It always feels good when you win," Sheppard said with smile. "It was something we'd talked about doing. We had the motor laying there and had no race conflicts, so we said, 'Let's run the Small Block this year.' It's one of those things, I swear, it's like, 'Why did I even do this?' But then you run like you did today, and man, it's awesome."
Sheppard, of Waterloo, NY, qualified sixth, locking himself into that starting position for the 150-lap race, while defending Salute to the Troops 150 winner Stewart Friesen claimed the SRI Performance/Stock Car Steel & Aluminum Pole Award and Marc Johnson earned the Finishing Touch Construction Outside Pole Award. Then, when it came to the Qualifying Heats, Sheppard finished second to Mat Williamson.
When the 150-lap race commenced, Friesen pulled ahead with the early lead. Behind him, Williamson bested Johnson for second. The three stayed that way in the early portion of the race, while Sheppard made his way to fourth by Lap 7.
The first caution of the night flew on Lap 25 due to Lance Willix suffering a flat left front tire.
When the race resumed, Williamson had a bad start and fell to fifth – moving Sheppard to third and Rocky Warner to fourth.
By Lap 44, Friesen found himself in heavy traffic, allowing Johnson and Sheppard to close.
Johnson built a runaround the bottom, sneaking under Friesen and inching ahead of him down the front stretch for a glimpse at the lead. However, the caution flew and since the lap wasn't completed the lineup resorted back to the last lap, placing Johnson back in second.
The top three remained the same for the next 10 laps. When the race resumed on Lap 54, Sheppard had his own poor restart and fell to fifth. He slowly made his way forward again, making it back to third by Lap 87.
On Lap 91, the caution flew again and became the competition caution for the race, allowing teams to pit for fuel if they needed. And it came just in time for Sheppard, who suffered a flat left front tire.
He, along with Friesen, and the majority of the field pitted. But, as a shock to many, Johnson decided to stay out and inherit the lead. Joining him in doing so were Peter Britten, Danny Johnson, Billy Dunn, Lance Willix and Darren Smith.
As the new leader, Johnson launched ahead of the field to finally find himself in clean air. Behind him, Friesen drove by cars like they were standing still. Putting his Halmar #44 Modified as high as he could in the first corner, Friesen torpedoed his way from sixth to second by the backstretch. He kept that momentum going around the high side of the track to reclaim the lead from Johnson on Lap 103.
Sheppard restarted the race in seventh and made his way back to third on Lap 131. Four laps later, the caution came out for Britten running out of fuel – putting Johnson's decision to not stop also in question.
When the green flag flew again, Sheppard went from Clark Kent to Superman. He tangled with "The Dark Knight" on entry in Turn 1, banging side panels with Johnson and muscling his way by for second. Then, he turned his attention to ending the reign of "Mr. Freeze."
Sheppard rocketed by Friesen for the lead on Lap 140 and then went ultra-sonic. With eight laps to go, he was a straightaway ahead of Friesen. And three laps later, Friesen and Johnson were no longer a concern. Friesen blew a right rear tire and Johnson ran out of fuel.
"I knew we did fuel mileage for the Heat Race, and we were good," Johnson said. "I didn't realize they were going to do so many yellow flag laps and only count three of them. That was major.
"Car was unbelievable. Joe did an awesome job with the shocks and springs. I just got to thank all my guys for everything that they did. They gave me a really good piece that was, I think, probably one of the best cars of the night. Especially on a long run. Just, shit luck I guess."
Their misfortunes put Max McLaughlin on Sheppard's tail for the final restart of the night and moved Tim Fuller up to third – who'd been on the move all race, after initially starting 17th.
McLaughlin threw his #8H machine into Turn 1, trying to grab Sheppard's bumper and hang with him on the restart but "Super Matt" was untouchable. He drove away to win the Salute to the Troops 150 by 1.35 seconds.
"I was a little snug at the beginning and didn't realize our stagger grew so much and got really tight at the end," said McLaughlin, of Mooresville, NC, who had to settle for second. "Just really really tight through the center. That's what ultimately did it. Even though I was tight, I had wicked drive off. That's what really helped me tonight. I could stick the bottom, especially off of (Turn) four. I was really good off of four and could make most of my passes. We were close, man. Just typical Sheppard right there."
Fuller finished third, Anthony Perrego fourth and Williamson rounded out the top five. Ronnie Davis quietly had one of the best runs of the race, racing his way from 38th to 10th – earning the Penske Racing Shocks Hard Charger Award.
Sheppard walked away with the $20,000 check and etched his name in another spot in the Super DIRT Week history book as he eyes another page on Sunday. The last time he won the DIRTcar 358 Modified race at Super DIRT Week in 2017, he went on to win the Billy Whittaker Cars 200 in the same year.
He starts from the pole for the $50,000-to-win, 200-lap, 50th NAPA Super DIRT Week main event.
"Really good run for my whole team," Sheppard said. "We're on a roll right now. Things are going our way. I don't know. Not much more to say than that."
UP NEXT: The DIRTcar 358 Modified Series will conclude its championship battle at Brockville Ontario Speedway, Saturday, Oct. 15.
The 50th Running of NAPA Auto Parts Super DIRT Week comes to its historic finale Sunday, Oct. 9, with the DIRTcar Sportsman Chevrolet Performance 75 and the Super DIRTcar Series Billy Whittaker Cars 200. For tickets, CLICK HERE.
If you can't make it to the track, you can watch all the action live on DIRTVision – either on DIRTVision.com or by downloading the DIRTVision App.
RESULTS
Salute To the Troops 150 (150 Laps): 1. 9S-Matt Sheppard[6]; 2. 8H-Max McLaughlin[14]; 3. 3RS-Tim Fuller[17]; 4. 4-Anthony Perrego[8]; 5. 6-Mat Williamson[3]; 6. 83-Danny Johnson[19]; 7. 35-Mike Mahaney[12]; 8. 37S-Gary Lindberg[5]; 9. 98H-Jimmy Phelps[29]; 10. 32R-Ronnie Davis[38]; 11. 21-Taylor Caprara[21]; 12. 28-Jordan McCreadie[27]; 13. 97-Rocky Warner[4]; 14. 26R-Corey Cormier[26]; 15. 21C-Brian Calabrese[23]; 16. 8R-Tim Sears Jr[20]; 17. M1-David Marcuccilli[9]; 18. 39-Ryan Bartlett[37]; 19. 44-Stewart Friesen[1]; 20. 9M-Tyler Meeks[25]; 21. 7Z-Zachary Payne[22]; 22. 27W-Nick Webb[28]; 23. 99L-Larry Wight[11]; 24. 4V-Billy VanInwegen Jr[16]; 25. 31-Corey Barker[33]; 26. 15X-Justin Stone[24]; 27. 31W-Lance Willix[13]; 28. 34-Rusty Smith[35]; 29. 3J-Marc Johnson[2]; 30. 11S-Steve Lewis Jr[40]; 31. 713-Tommy Collins[36]; 32. 21A-Peter Britten[10]; 33. 215-Adam Pierson[18]; 34. 12S-Darren Smith[30]; 35. 49-Billy Dunn[15]; 36. 66W-Derek Webb[39]; 37. 21R-RJ Tresidder[34]; 38. 15-Todd Root[32]; 39. 25-Erick Rudolph[7]; 40. 29-Matt Caprara[31]
---
Submitted By: CAMDEN PROUD
Back to News