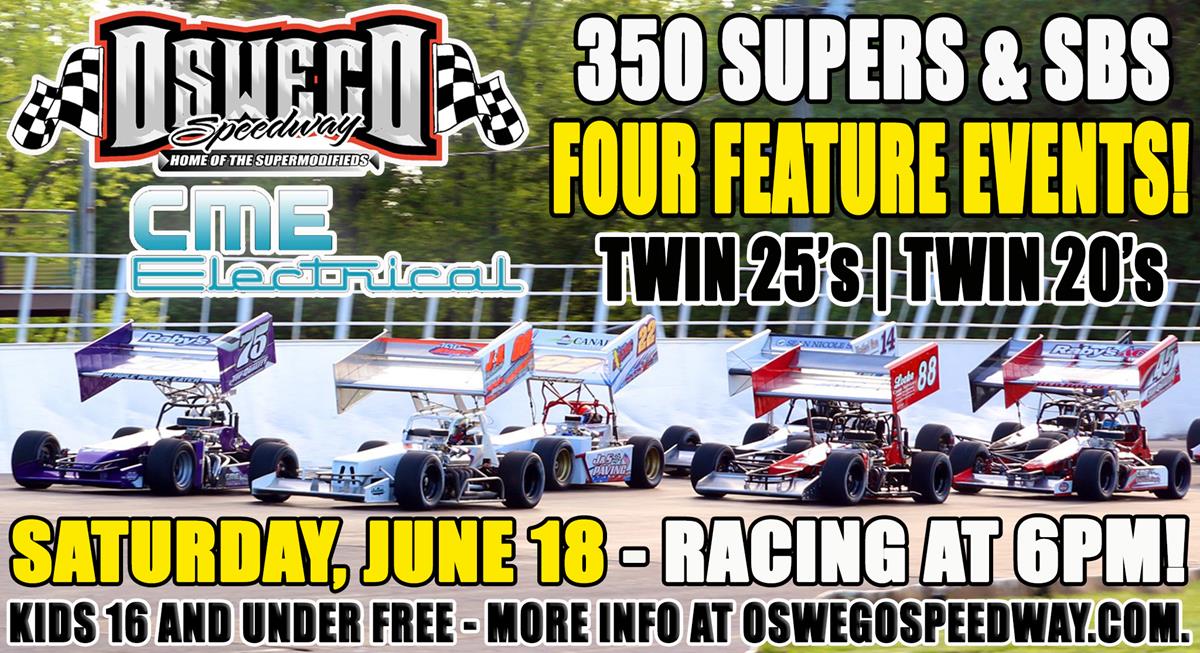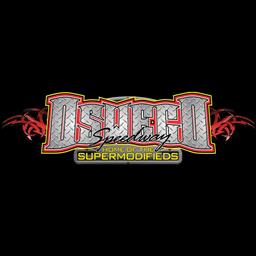 ---
CME Electrical Supply Presents J&S Paving 350 Super Twin 25's and Pathfinder Bank SBS Twin 20's at the Speedway Saturday, June 18
OSWEGO, NY (June 14, 2022) - Oswego Speedway will roar back to life for the final time in June this Saturday, June 18, as the folks at CME Electrical Supply present double feature night for the J&S Paving 350 Supers and Pathfinder Bank SBS.
For the first time ever, the 350 Supers will square off in two 25-lap feature events while the always entertaining SBS Twin 20's return for the co-headlining special featuring four main events, and over 130-laps of green flag racing.
CME Electrical Supply of Hannibal, NY is proudly presenting all of the action.
Family owned and operated with over 30 years of experience in electrical work, inspections, emergency services, and incident protection, CME provides all of the supplies required for you, whether simple outlet relocations and renovations to full industrial service installs or whole-house generators.
CME's consultation and services groups also provide the information and expertise to plan, coordinate, and complete any task.
Call CME and they will get you what you need today! For more information, please visit CMEElectrical.com or phone (315)-564-3073.
Gates will open for the June 18 program at 3pm, with warmups running from 4 to 5:30pm and the first qualifying heat race getting the green at 6pm.
Grandstand admission is just $20, with kids 16 and under admitted FREE. To purchase tickets, visit OswegoSpeedway.com and click on 'buy tickets' or you can stop by the box office or any ticket window on raceday.
For more information on the Speedway, you can LIKE Oswego Speedway on Facebook by visiting Facebook.com/OswegoSpeedway, or FOLLOW on Twitter @OswegoSpeedway or Instagram @OfficialOswegoSpeedway.
About Oswego Speedway: Oswego Speedway is a 5/8 mile semi-banked pavement racing oval located off the shores of Lake Ontario in scenic Oswego, NY. The speedway has been a continuously run weekly racing venue since August 1951. The premier open-wheel pavement short track cars in the world, Supermodifieds, run weekly at the Oswego Speedway making it the only weekly Supermodified racing venue in the world. The Small Block Supermodifieds and 350 Supermodifieds accompany the full blown Supers on a weekly Saturday night schedule which runs from May through September. Oswego Speedway is mentioned in racing circles as the "Indy of the East," as no fewer than a dozen past and present competitors have competed at the famed Indianapolis Motor Speedway including Mario Andretti, two-time Indy 500 champion Gordon Johncock, and former International Classic Champions Bentley Warren, Joe Gosek, and Davey Hamilton.
---
Submitted By: CAMDEN PROUD
Back to News