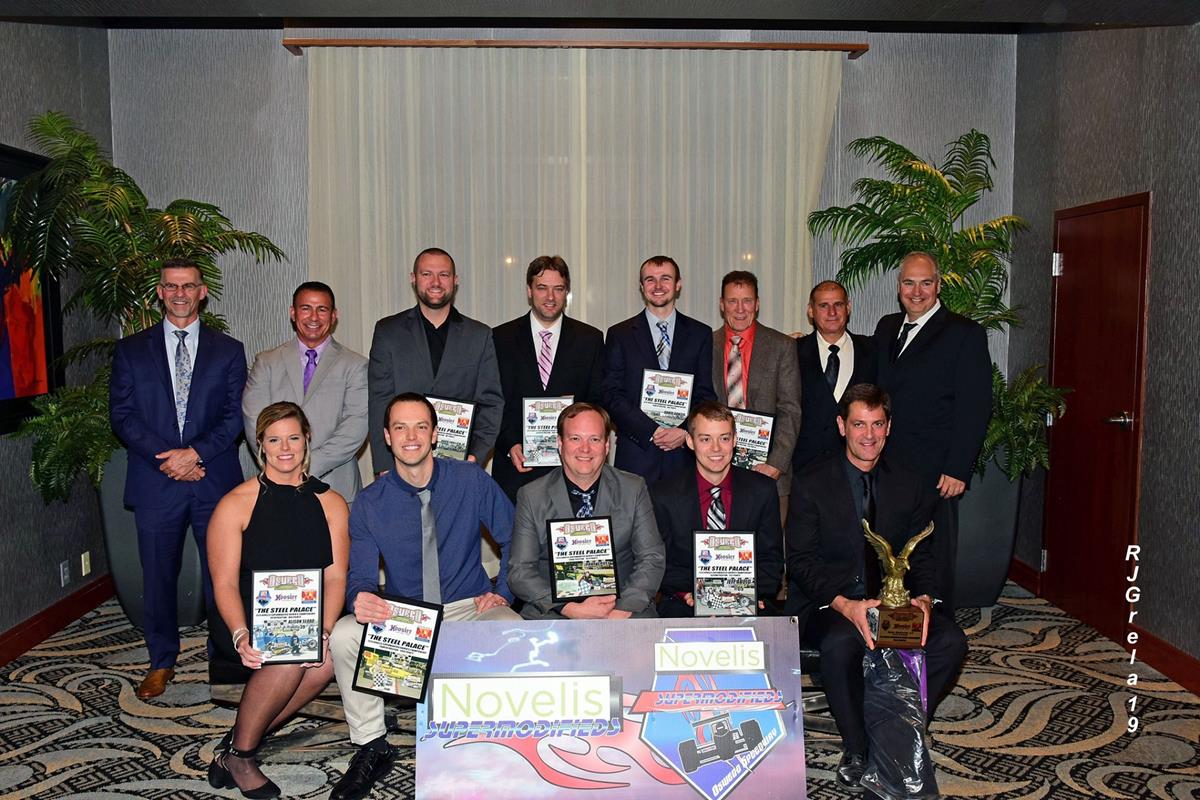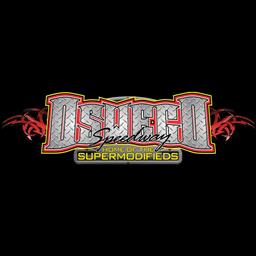 10/28/2019
Oswego Speedway
---
Oswego Speedway's Hall of Fame Banquet Wraps 2019 Season
OSWEGO, NY (October 28, 2019) - The Lake Ontario Event & Conference Center in Oswego once again played host to Oswego Speedway's Hall of Fame banquet this past Saturday night, October 26.
Master of ceremonies Steve Quonce began the festivities by honoring the Hall of Fame Class of 2019 consisting of driver Bob Stelter, car owner Clyde Booth, crew member and employee Don Gioia, employees Dawn and Clyde Rowlee, and Andy Graves for special achievement.
Stelter competed in the late 60's thru late 80's driving for a slew of teams. Spending time for the Solvay Automotive duo of Jim Delucia and John Pallota, fellow hall of famer Ron Buckner, and more, the popular Syracuse driver earned six wins and 43 top five finishes in his long career.
Booth, legendary car owner and builder of the iconic No. 61 'Silver Bullet,' was finally inducted into the hall. Known for "showing up and winning," the North Carolina resident was victorious in the 2003 International Classic with Mike Ordway. He also has Oswego wins with drivers such as Jim Shampine, Warren Coniam, and more.
Whether it be driver, crew member, or employee, Don Gioia has done it all. For his many years of dedication to the track, Gioia was chosen as a member of the Hall of Fame Class of 2019 and now joins his father Steve Sr. and brother Steve Jr. in the Hall of Fame. Don finished 12th in the 1980 International Classic.
The Rowlee Family spent nearly a decade dedicated to Oswego Speedway. Chief starter from 1961 thru the late 60's, Clyde completed the cycle of head flagman in the Hall of Fame while wife Dawn was also recognized for her many years as a hand scorer in the 60's. Rowlee is the only flagman to have done so from both the inside and outside of the race track.
Chief tech developer for Toyota Racing, the son of Supermod legend Fred Graves has helped put Oswego Speedway on the map. Since his days in the Graves Chassis Fab shop, Andy has moved on to see success in the sport's highest levels; winning the Indy 500, Brickyard 400, and US Nationals at least once or more under various titles.
Following the Hall of Fame ceremonies, the Eagles Fan Club Awards were up next with three honors set to be handed out in honor and memory of late Oswego drivers Jim Shampine, Tony White, and Joe Paeno.
The Shampine, White, and Paeno Memorial Awards went to Hal LaTulip, Dave Sliff Sr, and Jason Simmons, respectively with each individual honored for their years of dedication and commitment to the Oswego Speedway and Supermodified racing.
Oswego Speedway special recognition awards followed the Eagles Fan Club portion of the banquet with Ed Clark Spirit and Lois Matczak Woman of the Year tributes scheduled to be handed out next.
Longtime member of the Speedway Safety Crew; Derek Noyes was the recipient of this year's Spirit Award while Woman of the Year went to a very dedicated employee in Nancy Grathwohl, who has spent years answering the track phone, handling ticket sales, and more.
2019 Oswego Speedway Rookie of the Year honors went to Camden Proud in the Novelis Supermodifieds and Travis Bartlett in the Pathfinder Bank SBS. Both drivers joined the short list of only three other individuals to win this honor in both divisions.
For their outstanding season which ended with a runner-up result in the point standings, Team Abold Racing was honored with Novelis Supermodified Car Owner of the Year. Pathfinder Bank SBS championship runner-up Tim Barbeau was awarded Car Owner of the Year as well.
Crew of the Year honors went to Eddie Bellinger Jr. and the Bellinger Racing 02 camp in the Novelis Supermodifieds. The two-car RBI Racing team owned by Rich Wirth for drivers Mike Bruce and Cameron Rowe were this year's Pathfinder Bank SBS Crew of the Year.
A couple of very well deserved 'Most Improved Driver' Awards went to Logan Rayvals and Josh Sokolic. Rayvals showed tremendous improvement speed wise and in race trim this season as the Canadian brought home one top five and five top ten finishes.
Sokolic, last season's SBS Rookie of the Year, is a teen graduate of Quarter Midget racing who has impressed in his short time at Oswego. His sophomore season saw several heat race wins, three second place finishes, eleven top tens, and a fourth in points.
Along with track champions Otto Sitterly and Anthony Losurdo, representatives from division sponsors Novelis and Pathfinder Bank recognized the top ten in points for each class. All had photos taken with track owners John and Eric Torrese and were awarded plaques their efforts.
The 2019 Novelis Supermodified top ten consisted of Sitterly, Jeff Abold, Dave Gruel, Bellinger, Alison Sload, Dave Shullick Jr, Keith Shampine, Dave Danzer, Joe Gosek, and Turning Stone Resort Casino Favorite Driver Michael Barnes.
Pathfinder Bank SBS top ten drivers were Losurdo, Cliff, David LaTulip, Sokolic, Rowe, Greg O'Connor, Russ Bartlett, Travis Bartlett, Bruce, and first-time winner in 2019; Brad Haynes.
The two other first-time winners this year came from the Novelis Supermodified division; 2019 Budweiser International Classic 200 champion Tyler Thompson and the first female winner in Speedway history of Sload were honored with $1K Club 'Key Plaques.'
Festivities wrapped up with Sitterly and Losurdo, who both repeated as the track champions this season. Losurdo was also the first 350 Supermodified champion at the Speedway and became the first driver since Jim Shampine in 1972 to win more than one track title in the same season.
Winning a total of six main events this year, Losurdo virtually dominated the Pathfinder Bank SBS division with five wins including two in a row in the month of July. On July 6, Losurdo was victorious in both classes, becoming the first driver since Jack Murphy in 1957 to win more than one feature in two divisions on the same night.
Other 350 Supermodified drivers in attendance included Barry Kingsley, Dalton Doyle, Bruce, and Vern LaFave who were all recognized. LaFave, who was severely burned in a horrifying accident this past June, announced that he would return to racing at Oswego in 2020.
A lengthy speech by Oswego's new 'grand champion' Sitterly completed the program. Otto congratulated Classic winner Thompson, championship runner-up Abold, champion Losurdo, rookie of the year Proud, and teammate Sload on each of their honors.
The now nine-time champion, who surpassed the great Nolan Swift for most championships in speedway history this year, went on to thank Nicotra Racing for their many years of dedication to his efforts in the Novelis Supermodified division.
Nicotra, Sitterly, and Sload have already announced that the team would be back at the Oswego Speedway full-time in 2020 with both drivers at the wheel.
When ceremonies concluded, entertainment was provided until 1am with DJ Mike Howell taking care of DJ duties in the Conference Center. Eventually, the post-banquet party would move on to downstairs with live music provided by Cam Caruso.
Oswego Speedway has already announced its 2020 Opening Day for Saturday, May 23. The program will feature Shampine and White Memorial events for the Supermodifieds and the Pathfinder Bank SBS. The 350 Supers will also be on the card.
For more information on Oswego Speedway, you can visit online at OswegoSpeedway.com. Fans can also FOLLOW on Twitter @OswegoSpeedway or LIKE on Facebook at Facebook.com/OswegoSpeedway.
About Oswego Speedway: Oswego Speedway is a 5/8 mile semi-banked pavement racing oval located off the shores of Lake Ontario in scenic Oswego, NY. The speedway has been a continuously run weekly racing venue since August 1951. The premier open-wheel pavement short track cars in the world, Supermodifieds, run weekly at the Oswego Speedway making it the only weekly Supermodified racing venue in the world. The Small Block Supermodifieds and 350 Supermodifieds accompany the full blown Supers on a weekly Saturday night schedule which runs from May through September. Oswego Speedway is mentioned in racing circles as the "Indy of the East," as no fewer than a dozen past and present competitors have competed at the famed Indianapolis Motor Speedway including Mario Andretti, two-time Indy 500 champion Gordon Johncock, and former International Classic Champions Bentley Warren, Joe Gosek, and Davey Hamilton.
---
Submitted By: CAMDEN PROUD
Article Media
Back to News