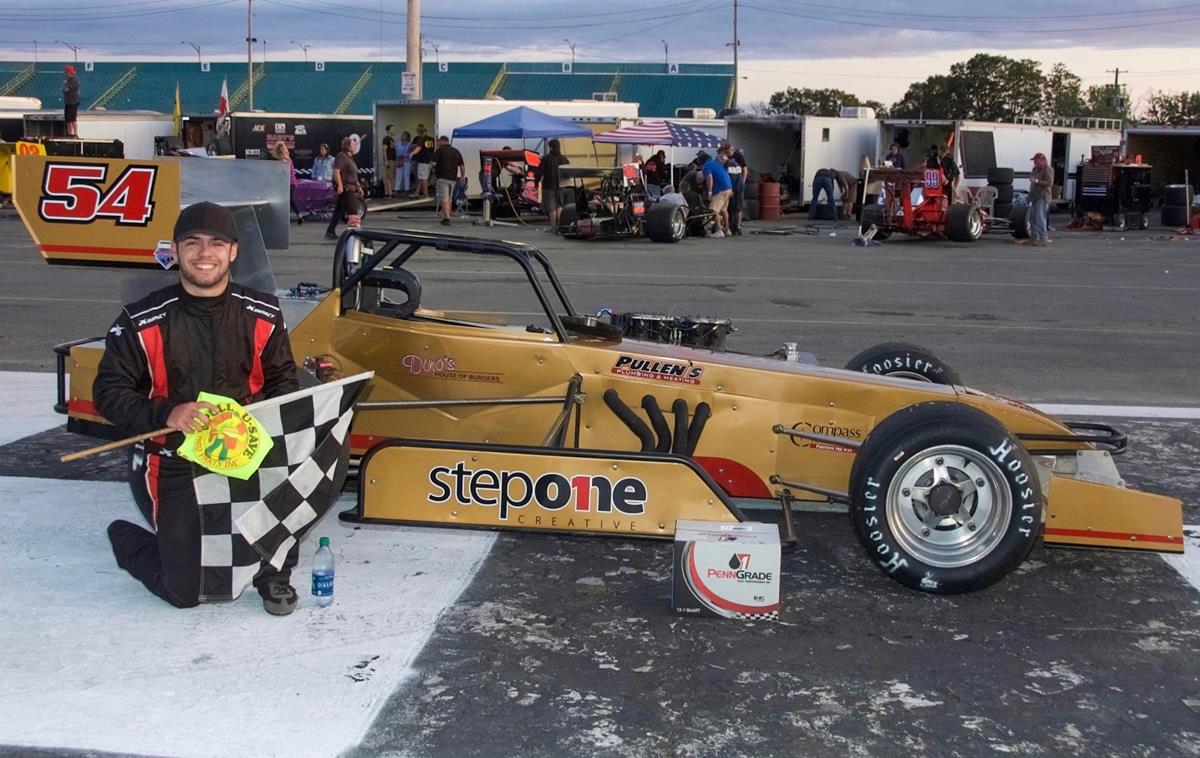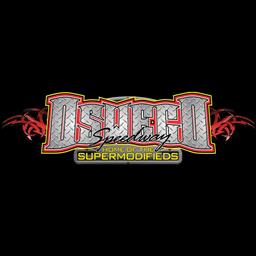 10/25/2019
Oswego Speedway
---
Camden Proud Captures Novelis Supermodified 'Rookie of the Year' Award
OSWEGO, NY (October 25, 2019) - With Oswego Speedway's Hall of Fame Banquet on tap for tomorrow evening, inductees and champions won't be the only individuals recognized as 2019 Novelis Supermodified and Pathfinder Bank SBS 'Rookie of the Year Award' winners Camden Proud and Travis Bartlett will also accept their honors.
Proud, a second generation driver from Oswego, moved up to the Supermodified ranks full-time in 2019 after spending five seasons in the Pathfinder Bank SBS division. The 20 year-old edged fellow SBS graduate Jack Patrick for Rookie of the Year by just four points.
"I want to congratulate Jack on a great season," Proud said. "I thought it was special that we were both able to secure funds to move up and run the full year in the big blocks and we had our Rookie of the Year battle go right down to the final race. You can't ask for much more."
On August 17, the Small Block Super veteran etched his name into the record books as only the fifth driver in 69 years to win Rookie of the Year Awards in both the Novelis Supermodified and the Pathfinder Bank SBS divisions.
"Winning this award means a ton to me," Proud added. "I have grown up at this track. It is home. Getting to spend five years in the SBS class was a great experience, but I wasn't sure if a Super was ever possible. To do each full-time and win Rookie of the Year in both is unbelievable."
Showing steady progress throughout the year, the current Speedway PR Director achieved what he had hoped for and then some; winning Rookie of the Year, his first qualifying heat race, and also earned a solid top ten run on August 3.
"We progressed nicely despite battling a lot of mechanical issues," Proud continued. "Through all of that, I was still able to get faster each week, earn valuable seat time, and most importantly, keep the car in one piece. Not bringing it home in a pile was key to winning the rookie award."
Proud's Supermodified operation is entirely family oriented. The No. 54 car is owned by Proud himself, along with parents Tim and Deb. Tim is a former Supermodified driver, and has won the Rookie of the Year Award once before as car owner for Mike Bond in 1999.
"This is a family deal and I wouldn't have it any other way," offered Proud. "We went into this low on help, funds, and knowledge. No one knew what to expect, but we got assistance from a lot of good people throughout the year and were pleasantly surprised in some areas. It always feels a little extra special to earn success with a small, family operation."
On August 3, Proud started alongside veteran Jerry Curran in his qualifying heat race and was able to jump out to a comfortable lead early before holding off Dave Danzer in the closing laps to capture a popular preliminary win. He says it was a moment he will never forget.
"That heat race win felt like a feature to us," Proud recalled. "It was my first time starting up front and we just hoped to get in a handicap spot for the feature, but I guess I got way more than we bargained for. Sharing that moment with my Dad and the crew was a career highlight for me."
Later that month, Proud missed the lock-in for the Budweiser International Classic 200 by only two spots, qualifying 22nd with a career best lap of 16.2 seconds before going on to finish up a fine fourteenth in the International Classic. He had been ran as high as twelfth in the event.
"Overall we were thrilled with Classic," Proud commented. "Ultimately, our goal was to qualify in and we came up just short, but had a competitive race car. To get in with a second in my semi on Sunday, then finish all 200-laps with a top fifteen in my rookie year was a big deal for us."
Moving forward, Proud hopes to continue competing in the Supermodified class. The team has already secured primary sponsorship from Ken's Body Shop, which will be replacing Step One Creative whom has served as primary sponsor of Proud Motorsports for six straight seasons.
"We literally could not do this without our sponsors," explained Proud." It has been an excellent six years with Shane Stepien and Step One Creative. I can't even begin to express how grateful we are to him. Fortunately, Ken's has already stepped up to be our primary backer in 2020."
With some funding secured, Proud says the plan is to be back at the track with his Super every week this coming season. He is hoping the mechanical bugs have been worked out of the car, and that he can now focus on running up front as opposed to just finishing races.
"We plan to be at the track weekly in 2020," Proud stated. "Now, we don't have to worry about the points deal anymore. I think I have a good car and hopefully will have the chance to prove that we can be a lot more competitive than shown so far. I want to finish some races up front."
One of the top competitors in the Pathfinder Bank SBS ranks for several years, Proud has five second place finishes in the division, but no feature wins. He holds the most runner-up efforts without a victory in Speedway history and would love to get his father's chassis back trackside.
"We're working on getting a crate motor shipped to us in the next few weeks and getting it put in the SBS," Proud confirmed. "We want the car back out there. I just don't know how much it'll be at this point. It all depends on help, funds, and where the Super is at. We want that win bad."
In conclusion Proud said,"I need to thank everyone that makes this happen from family to crew, and of course sponsors. Racing isn't necessarily about the success you have, but the journey you take to get there and people you share it with. We've made a lot of memories and hope to continue doing so for many years to come."
Sponsors of the Proud Motorsports No. 54 include Step One Creative, Ken's Body Shop, Dino's House of Burgers, Oswego Quality Carpet, GJP Italian Eatery of Oswego, Budget Signs, Xpress Auto Care, Pullen's Plumbing and Heating, and Compass Credit Union.
Crew members on the car include Tim Proud, Scott Lord, Doug Zupan, and John Colloca with special thanks to Chris Proud, Steve Whalen, Brent Murray, and Doug Didero.
Proud will be officially awarded with his Rookie of the Year honors at tomorrow's Banquet held at the Lake Ontario Event & Conference Center in the City of Oswego. Cocktail hour will take place at 5pm, with dinner at 6pm and awards to follow.
For more information on Oswego Speedway, you can visit online at OswegoSpeedway.com. Fans can also FOLLOW on Twitter @OswegoSpeedway or LIKE on Facebook at Facebook.com/OswegoSpeedway.
About Oswego Speedway: Oswego Speedway is a 5/8 mile semi-banked pavement racing oval located off the shores of Lake Ontario in scenic Oswego, NY. The speedway has been a continuously run weekly racing venue since August 1951. The premier open-wheel pavement short track cars in the world, Supermodifieds, run weekly at the Oswego Speedway making it the only weekly Supermodified racing venue in the world. The Small Block Supermodifieds and 350 Supermodifieds accompany the full blown Supers on a weekly Saturday night schedule which runs from May through September. Oswego Speedway is mentioned in racing circles as the "Indy of the East," as no fewer than a dozen past and present competitors have competed at the famed Indianapolis Motor Speedway including Mario Andretti, two-time Indy 500 champion Gordon Johncock, and former International Classic Champions Bentley Warren, Joe Gosek, and Davey Hamilton.
---
Submitted By: CAMDEN PROUD
Back to News