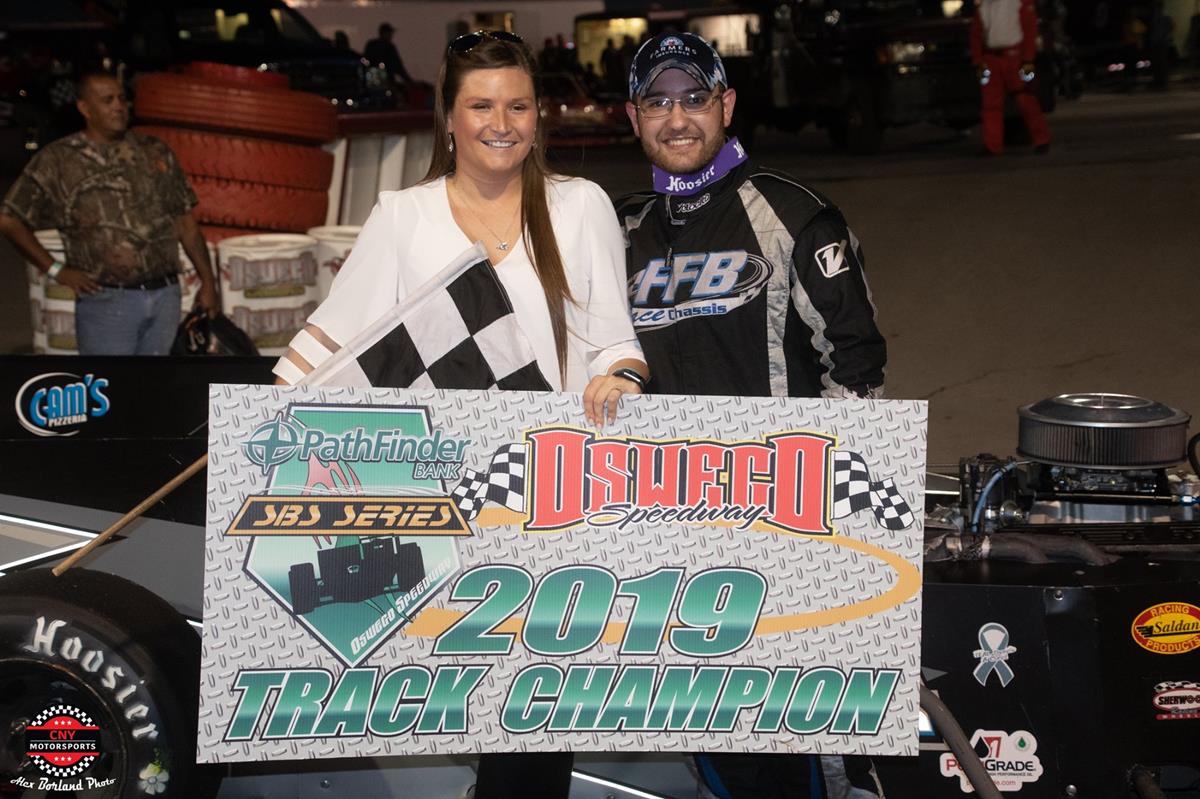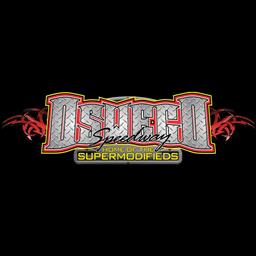 10/25/2019
Oswego Speedway
---
Anthony Losurdo Lands Double Track Championships at Oswego Speedway
OSWEGO, NY (October 25, 2019) - For Anthony Losurdo, his sixth full season of racing at the Oswego Speedway could not have gone better. Driving for Missile Motorsports, Losurdo was able to clean house as both the Pathfinder Bank SBS and 350 Supermodified track champion.
Winning back to back championships in the Small Block Super division and becoming the first ever track champion of the Speedway's new 350 class, Losurdo is the first driver since the late Jim Shampine (1972) to win more than one championship in the same season.
In addition to that impressive statistic, Losurdo also became the first driver since Jack Murphy all the way back in 1957 to win two feature events in two divisions on the same night, a feat that he accomplished in the Independence Weekend special held on July 6.
"2019 was a career season for us," said Losurdo. "We accomplished much more than I thought possible. Hearing those stats, and having my name mentioned with some of the all-time greats is really humbling. I have lived and breathed Oswego Speedway since I was a kid and having the kind of success we did this year was seriously a dream come true."
There is no doubt that Losurdo had a banner year. Winning both championships by a healthy forty points or more, 'Hawk' was able to add a combined total of six more wins to his resume, which now includes twelve Pathfinder Bank SBS victories (tied for seventh all-time).
"If you would have told me five years ago that I'd be where I am today, I'd have said you were lying," Losurdo continued. "The wins and stats mean a lot to me, but the journey along the way is what means the most. From the extreme highs to the heartbreak, I wouldn't change a thing."
They say consistency wins championships and Losurdo has certainly proved that the last two seasons driving for Mark Castiglia and Missile Motorsports. In his last 22 races, Losurdo has finished tenth or better an unheard of 21 times including ten top five runs in 2019.
"I truly owe all of the success I've had to Mark (Castiglia) and the group of people I have behind me," Losurdo explained. "Mark knows what it takes to compete the way we do and has given us everything we needed and then some and that's why I'm where I am. I can't thank him enough."
Losurdo also has a number of friends and crewman that have helped him not only since his Oswego beginnings in 2012, but from quarter midget and kart racing right up through to the 2019 season which will surely go down as a career highlight for the 21 year-old.
"I am blessed to have my Dad and Stu Fenske by my side not just in racing but in life," Losurdo added. "I think my Dad is one of the smartest guys to touch an SBS and Stu has been my right hand man since I was four. He is a huge asset and in my opinion the best wrench at the track."
It's no secret that this year's championship came with a bit more breathing room for the Losurdo team, who last season were forced to hold off hall of famer Russ Brown for the track title by a mere sixteen points. How did he get off to such a hot start?
"I think the key this year was that my team just had things come together a bit quicker," Losurdo explained. "We found a lot of speed right out of the box with this new crate motor, but it took some of the guys a while to figure it all out and we capitalized on that."
Moving forward, Losurdo believes the already growing SBS class is in excellent shape with the new rule changes. While Anthony may have appeared dominant this season winning five main events and finishing in the top ten for every single one of them, he assures it did not come easy.
"Car counts were down with the rule change," Losurdo mentioned, "but I don't think that made things much easier because we still had a quality field. I love the SBS class and this crate motor is a great way to get new people involved. I'm thinking at Classic 2020 we will have a B-Main."
The other part to Losurdo's story is Castiglia's 350 Super; the former Double Deuce Racing No. 22. Jim Losurdo and crew worked relentlessly to find more speed out of the car before finally reaching victory lane in July. Anthony says running two cars was a big part of that challenge.
"We unload two bad fast cars every week, but running two is a lot more challenging than we expected," he admitted. "Hopping out of one and jumping in another with a big top wing that drives completely different than the other took some getting used to."
Continuing Losurdo said,"The real difficult part was in the shop. The cars are so tedious, and it took us awhile to find the right combo. My team works hard to get everything perfect for me, but it was hard to find time to ensure all three Missile cars were exactly where we wanted them."
With that said, the 350 Supermodified rookie thoroughly enjoyed the new class despite the uphill battle and ongoing adjustments you need to make as a driver. However, he does not know what the plan is for the No. 1 winged small block car in 2020.
"I loved racing the 350, but I don't know what will happen," Losurdo stated. "It was tough. We tried everything but change the steering wheel and seat. It's so much different than anything I've done, but it's an awesome class that will continue to grow as a stepping stone to the big blocks."
Moving forward, Losurdo's future isn't set in stone, but he says he "thinks the team's future is bright." Anthony wasn't positive as to the full extent of his 2020 plans, but guaranteed that both Small Block Supers would be back trackside with himself and David LaTulip at the wheel again.
Losurdo will be honored for his track championship(s) at the Speedway's Hall of Fame Banquet scheduled for tomorrow, October 26 at the Lake Ontario Event & Conference Center in the City of Oswego. Cocktail hour will be at 5pm, with dinner at 6pm, and awards to follow.
For more information on Oswego Speedway, you can visit online at OswegoSpeedway.com. Fans can also FOLLOW on Twitter @OswegoSpeedway or LIKE on Facebook at Facebook.com/OswegoSpeedway.
About Oswego Speedway: Oswego Speedway is a 5/8 mile semi-banked pavement racing oval located off the shores of Lake Ontario in scenic Oswego, NY. The speedway has been a continuously run weekly racing venue since August 1951. The premier open-wheel pavement short track cars in the world, Supermodifieds, run weekly at the Oswego Speedway making it the only weekly Supermodified racing venue in the world. The Small Block Supermodifieds and 350 Supermodifieds accompany the full blown Supers on a weekly Saturday night schedule which runs from May through September. Oswego Speedway is mentioned in racing circles as the "Indy of the East," as no fewer than a dozen past and present competitors have competed at the famed Indianapolis Motor Speedway including Mario Andretti, two-time Indy 500 champion Gordon Johncock, and former International Classic Champions Bentley Warren, Joe Gosek, and Davey Hamilton.
---
Submitted By: CAMDEN PROUD
Back to News