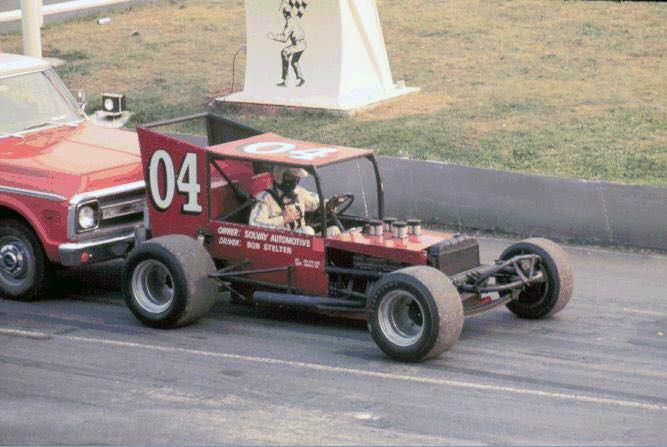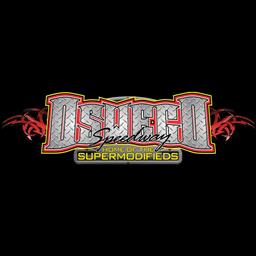 10/25/2019
Oswego Speedway
---
Stelter, Booth, Gioia, Graves, and Rowlee Make Up Oswego Speedway's Hall of Fame Class of 2019
OSWEGO, NY (October 24, 2019) - The latest class of Oswego Speedway's Hall of Fame will be inducted at the track's banquet scheduled for this Saturday, October 26 in Oswego's Lake Ontario Event & Conference Center.
Making up the twenty second class of Oswego's storied hall are driver Bobby Stelter, car owner Clyde Booth, crew members Don Gioia and Andy Graves, and longtime chief starter and track employee, Clyde Rowlee.
Stelter, one of the more popular Supermodified drivers in Oswego's history, accounted for a total of six feature wins and 43 top five finishes during his long career. A Syracuse native, Bob made his first Oswego appearance in 1967 driving a car he had purchased from Bob Dorsey of Ohio.
One year later, Stelter got his first shot as a driver in the former 'Woodshed 44,' owned by John Pallotta and Jim DeLucia. He won his first feature in '69, and spent a total of four years with that team before a brief stint in the Bill Wright '10-Pins' in 1973.
When Stelter and Wright parted ways, Ron Buckner was the next car owner to offer Bobby a chance which certainly paid off. Stelter won four times for Buckner in 1973 and 1974, and finished second in the '74 International Classic to Jim Shampine.
After spending a short time driving for his brother in 1976 and 1977 and eventually Jack Tobin in 1978, Stelter found his way back to the Solvay team in 1979 when he began driving the team's new offset car. He won with that piece in 1980 before returning in 1987 for his final season.
The legendary Clyde Booth needs little introduction to Oswego's fans. Booth emerged as a Supermodified car owner in 1969 and has since fielded rides for upwards of a dozen drivers including track champions Shampine, Warren Coniam, Pat Abold, and Dave Shullick Jr.
Booth owned race cars; and of course the self-built 'Silver Bullet' made famous by Mike Ordway, have amassed 31 victories at the Speedway. His most famous creation was practically dominant whenever it showed up in the early 2000's. Ordway and Booth won the Classic together in '03.
Joining his father Steve Sr. and brother Steve Jr. in the Hall of Fame this year is a former driver, crew member and also a current employee; Don Gioia. Gioia crewed for Steve through all 26 of his victories including their most memorable; the 1976 International Classic.
Four years later, Gioia spent a season in his brother's backup car and finished a fine twelfth place in his only attempt at the Intl' Classic. He then crewed until the end of his brother's career in 1997 before later going on to assist Jeff West, Jeff Holbrook, and Double Deuce Racing.
These days, Gioia can still be found all over the Speedway grounds. He helps however he can whether it be cutting grass, lending a hand at the tiki bar, and right down to picking up trash. Don simply loves the sport, and hopes to be involved for many years to come.
Son of Supermodified legend Fred Graves, Andy Graves began his days in motorsports at the Oswego Speedway, but has since found success in the highest levels of our sport; winning the Indy 500, Brickyard 400, and US Nationals at least once or more under various titles.
Spending much of his childhood at the Oswego Speedway, Graves helped to build his family's Supermodified Chassis in the early to mid-80's. He eventually bought the Graves Speed Shop in 1988, before moving to Charlotte to work for Hendrick Motorsports in 1990.
After nine years in NASCAR working with names such as Gordon, Rudd, Craven, and Terry Labonte, Graves accepted a position as team manager for Chip Ganassi in 2000 when he won the Indianapolis 500 with Juan Pablo Montoya.
Finally, Graves was hired at Toyota in 2006 where he was promoted to his current role as Chief Technical Developer. There, he has continued to make Oswego proud, winning both NASCAR and NHRA championships with Kyle Busch, Del Worsham, Martin Truex Jr, and JR Todd.
The final two inductees of the 22nd class of Oswego Speedway's Hall of Fame are longtime track employees; Dawn and Clyde Rowlee. The Rowlee's were involved with the Speedway from the very beginning with Clyde serving as a track steward and Dawn as a scorer.
Clyde spent three years as a steward before being promoted to the chief starter in 1961, and was the only flagman to flag from the stand on both the front stretch wall as well as the track's infield where it was moved in 1967. For all seven years, Dawn continued to score.
Dawn and Clyde both retired from Oswego in the late 60's and have since passed on. Now, Clyde joins all other full-time chief starters in Oswego's Hall of Fame: Willie Hackett, Rowlee, Norm Bacon, Bruce Lee, Jerry Kritzman, and Don Forbes.
These inductees will be honored at the Speedway's Hall of Fame Banquet scheduled for this Saturday, October 26 at the Lake Ontario Event & Conference Center. Cocktail hour will be at 5pm with dinner at 6pm and awards to follow.
For more information on Oswego Speedway, you can visit online at OswegoSpeedway.com. Fans can also FOLLOW on Twitter @OswegoSpeedway or LIKE on Facebook at Facebook.com/OswegoSpeedway.
About Oswego Speedway: Oswego Speedway is a 5/8 mile semi-banked pavement racing oval located off the shores of Lake Ontario in scenic Oswego, NY. The speedway has been a continuously run weekly racing venue since August 1951. The premier open-wheel pavement short track cars in the world, Supermodifieds, run weekly at the Oswego Speedway making it the only weekly Supermodified racing venue in the world. The Small Block Supermodifieds and 350 Supermodifieds accompany the full blown Supers on a weekly Saturday night schedule which runs from May through September. Oswego Speedway is mentioned in racing circles as the "Indy of the East," as no fewer than a dozen past and present competitors have competed at the famed Indianapolis Motor Speedway including Mario Andretti, two-time Indy 500 champion Gordon Johncock, and former International Classic Champions Bentley Warren, Joe Gosek, and Davey Hamilton.
---
Submitted By: CAMDEN PROUD
Back to News